Todd:Back Door
From OpenWetWare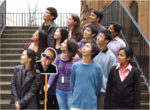 General
Day-to-Day Responsibilities
Protocols/How-to
Safety Procedures
If you're a PhD student and travelling on Uni business (e.g. to conferences) you need to fill out a form so that you're covered by the Uni's travel insurance.

Grant Codes
General: L0961 00000
Linkage (ARC Grant Number LP0883419)(PZQ people): L0961 A4343 (ARC) and L0961 R9074 (WHO)
NBCF (azamacrocycle people): L0961 R7128
Stanford/IPDF grant L0961 80030
WUN/IPDF grant L0961 90030
Basil/MMV/IPDF grant L0961 20030
MMV Pilot project L0961 R9755
AAS Travel Grant L0961 R8282
ARC Discovery DP120104035 Charting Intercellular Space L0961 A7765
MMV Linkage LP120100552 : ARC (L0961 A4450), MMV (L0961 R9898)
CDIP IR5445 fund (TB): L0961 R5434
GSK OpenLab TB Project: L0961 R0252
MMV Linkage #2 LP150101226: ARC (L0961 A4504) for spectroscopy, MMV (L0961 R0642) for chemicals and consumables
Group Meetings
Mondays at 12. Schedule for Semester 2, 2012 is here.
Old Schedule for Semester 1, 2012
How to Get Started on OpenWetWare (New group members)
Do all this stuff to get an account and start editing pages
Add yourself to this page
Performance Management and Review