Submissions to NCI Screening Program
From OpenWetWare
Jump to navigation
Jump to search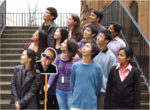 The group can submit any compounds to the National Cancer Institute's Developmental Therapeutics Program. This involves a number of different assays including the NCI 60 cancer cell lines.

Before submitting compounds:

1. Talk to Mat. Compounds ought to be submitted in groups (not one at a time)
2. Prepare a Chemdraw file with the structures of the compounds you wish to submit
3. If you're a student or a visitor, download, complete, print and sign the Deed Poll page of this document, and give the hard copy to Mat. If you're a postdoc on a salary, you don't need to do this
4. Mat completes the front page, then this paperwork goes to Sydnovate Legal (Vee Scott/Anita Kelly) at Sydnovate.legal@sydney.edu.au or hard copy
5. Once this paperwork is digested, we will be notified, and only then can we send compounds to NCI

Note that this sequence needs to be completed each time we send compounds. Hence it's worth sending a few compounds (not one!) at a time.
To submit compounds:

The NCI site has guidelines for this. We have an account on the system - Username is TheToddLab, password you can get from Mat - use these to login to the system here. Structures submitted will be evaluated by NCI, and they will contact us if they want physical samples. Note the following: "After the DTP selection process is complete, the supplier will receive e-mail notification of a decision and if selected, instructions for mailing the physical sample(s) to the NCI Repository. Suppliers should not send in any samples until instructed. The sample size requirement is 10-15 mg, but for relatively inaccessible natural products, 5 mg is acceptable."