Submissions to Lilly PD2 program
From OpenWetWare
Jump to navigation
Jump to search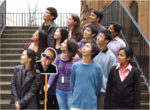 The group has an account with Eli Lilly's PD2 program for phenotypic screening of our compounds. Talk to Mat if you want to submit - it's very easy.

Note - July 2011 - new site

Lilly screens our submissions electronically first. They will notify us if they want physical samples sent, and will send vials for this. The submission process is free, and we retain all rights to the compounds - Lilly don't know what the structures are when they screen. If compounds give interesting hits, we can then decide what to do with them.
Username: toddmatthew
Password: (get from Mat)