User
:
Leannekuwahara
From OpenWetWare
Jump to navigation
Jump to search
Leanne Kuwahara
Contact Information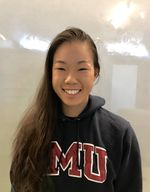 Loyola Marymount University: Department of Biology
1 LMU Drive Los Angeles, CA 90045
Career Goal
To work as a criminalist in a government crime laboratory.
Education
School: Loyola Marymount University

Major: Biology | Minor: Chemistry
Expected Graduation Date: May 2019
Upper Division Science Courses:
Urban Ecology + Lab
Plant Interactions
Biostatistical Analysis
Chemical Neurophysiology
General Physiology + Lab
Cell Biology Lab

Forensic Chemistry
Biochemistry
Microbial Genomics Lab
Biomathmatical Modeling
Analytical Chemistry
Research Experience
St. Jude Children's Research Hospital Pediatric Oncology Education Program | Memphis, TN | May 2018-August 2018

Mittag Lab: Structural Biology

Worked to identify the role of tyrosine residues in liquid-liquid phase separation of hnRNPA1

Loyola Marymount University | Los Angeles, CA | December 2018-Current

Covino Lab: Department of Biology

Worked to identify migratory patterns of the Setophaga petechia (Yellow Warbler) by analyzing the hydrogen isotopes in the tail feathers.
Work Experience
General Chemistry Lab TA

Loyola Marymount University: Department of Chemistry and Biochemistry | August 2018-Current

Oversee the safety and general lab practices of over 15 Chemistry students
Grade student lab reports within one week
Provide feedback that improves the student's overall experience in the course

Intramural Sports Supervisor

Loyola Marymount University: Department of Campus Recreation | August 2017-May 2018

Trained over 20 officials in the rules of 8 sports, including flag football, basketball, and soccer
Oversaw a team of 4 officials during game shifts
Served as the bridge between players and management
Personal Interests
Basketball
Guitar/ukulele
Puzzles
Favorite aspect of Biology: I enjoy learning about the human body and how it functions as a whole unit on the molecular level. I also enjoy working in a laboratory setting and pipetting.
Favorite aspect of Mathematics: I like that there is always a correct answer, but that you can be creative in the way you get to that answer.
BIOL388 Assignments
Assignment Pages:
Individual Assignment Link:
Class Journal Page:

Week 4 shared journal assignment extended to week 5
No week 8 assignment
No week 13 assignment

BIOL388 Home Page: BIOL388
User page: Leanne K. Kuwahara
Acknowledgements
-Texted once over the weekend for clarification of what was to be completed.
OpenWetWare-MediaWiki Help Page: Formatting
Except for what is noted above, this individual journal entry was completed by me and not copied from another source.
References
Stewart, I. (2006) Letters to a Young Mathematician, New York, NY: Basic Books, pp. 1-10, 45-52.
Janovy, J. (1996) On Becoming a Biologist (2nd ed.), Lincoln, NE: University of Nebraska Press, pp. 1-33.
Assignment Page: Assignment-Week 1
OpenWetWare-MediaWiki Help Page: Multi-Column Lists; Images: Size & Frame
Leanne Kuwahara (talk) 19:11, 28 January 2019 (PST)