User
:
Reshma P. Shetty
From OpenWetWare
Jump to navigation
Jump to search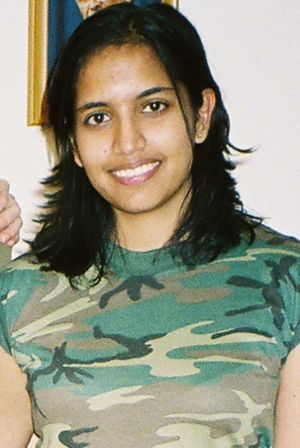 I am a co-founder of Ginkgo BioWorks, Inc..
Education
Current research
My current work is in the area of synthetic biology.
Other related discussions and projects in which I am involved.
Teaching
Previous research
Prior to coming to MIT, I spent a few months in Tom Blundell's lab at the University of Cambridge working on RAPPER: ab initio conformational search algorithm for restraint-based protein structure modeling.
Before that, I worked as an undergrad research assistant for several years in Baldomero Olivera's lab at the University of Utah. I worked on a few different projects during that time including the identification of the post-translational modification enzyme γ-glutamyl carboxylase in Conus and Drosophila. Also, I helped to discover two novel superfamilies of neurotoxins from the venom of the molluscs Conus.
See my publications.
Honors
National Science Foundation Graduate Research Fellowship, 2005-2007.
Whitaker Graduate Fellowship in Biomedical Engineering, 2002-2004.
Andrew and Edna Viterbi Fellowship in Computational Biology, 2002-2003.
Activities
Some non-research but still important discussions and projects in which I am participating.
Contact
Reshma Shetty
rshetty AT ginkgobioworks DOT com
Bookmarks
<xfeeds titlecolour="#e5edc8" notimestamp="Y" contentcolour="#e5edc8" feedlimit="10" totallimit="20"> http://del.icio.us/rss/rpshetty/research </xfeeds>
Miscellaneous