User:JernejTurnsek
From OpenWetWare
Jump to navigation
Jump to search
Ideas
I started writing down thoughts and ideas on various scientific questions I find interesting in 2016. Heavily influenced by my soon to be completed Ph.D. work in marine microbiology, some of them do touch other fields, mainly neurobiology, evolution, origins of life and gene regulation. This list will grow and its sole intention is to spark scientific discussion. It is open to everyone to comment.

Illuminating evolution one compartment at a time. Pioneering spatial proteomics approaches in photosynthetic microeukaryotes at Harvard University, the Scripps Institution of Oceanography, and the J. Craig Venter Institute (JCVI).

Be part of my efforts to save coral reefs at Let's all tri our best, TriForOceans!
On Sep 1, 2016, I became a Visiting Graduate Student in Prof. Andrew E. Allen Lab at the Scripps Institution of Oceanography (SIO) and the J. Craig Venter Institute (JCVI) where I am continuing my spatial proteomics work in diatoms. My new mailing address is as follows:

Jernej Turnsek
J. Craig Venter Institute
4120 Capricorn Lane
La Jolla, CA 92037
USA
Email: jturnsek@jcvi.org

Molecular and cell biologist with broad international academic and industrial research experience. Ph.D. Candidate in Biological and Biomedical Sciences at Harvard University (expected to graduate in 2019), Visiting Graduate Student at The Scripps Institution of Oceanography, University of California, San Diego, and Research Fellow at J. Craig Venter Institute. iGEM 2010 World Champion and protocols.io ambassador. Open science advocate.

In my PhD thesis I am using a genetically encodable tag for electron microscopy and subcellular proteomics to study endocytosis, carbon fixation and biosilicification in diatoms, highly abundant and evolutionarily successful photosynthetic microeukaryotes.

My future interests with tangents to my PhD work are as follows:
1. Continuing my work on systems understanding of the molecular mechanisms guiding the morphogenesis of diatom cell walls. I am particularly interested in polyamines and their role in connecting cell cycle control and call wall formation.
2. Extending my studies on biomineral morphogenesis to non-diatom model systems such as radiolarian protozoa Acantharea which are using strontium sulfate to build their skeletons.
3. Studying evolutionary origins and basic physicochemical principles of protein-induced phase transitions in eukaryotes. I am especially interested in how protein disorder, low amino acid complexity and posttranslational modifications tie to these processes.
4. Investigating antizyme-mediated regulation of polyamine homeostasis and the mechanisms of polyamine-induced ribosomal frameshifting.

I have always been very motivated to balance science with my passion for sports which will extend into all of my future endeavors. I have developed as a triathlete throughout graduate school and am anticipating to participate in my first full Ironman race in 2019 or 2020.
Contact Info
Lab
Jernej Turnšek | Ph.D. Candidate
Harvard Medical School | Department of Systems Biology | 200 Longwood Avenue, Boston, MA 02115
Wyss Institute for Biologically Inspired Engineering at Harvard University | Center for Life Science Boston Bldg., 5th Floor | 3 Blackfan Circle, Boston, MA 02115
Email: turnsek@fas.harvard.edu | CV as of October 18'
Social Media
Visit my LinkedIn profile.
Find me on ORCID.
Follow me on Twitter.
Interests
Biomineralization | Biomaterials | Morphogenesis | Self-assembly | Biomolecular condensates and biological phase transitions
Marine Microbiome | Marine Natural Products
Astrobiology | Space Exploration | Origins of Life
Endurance Sports | Exercise Physiology | Sports Technology
Projects
Spatial biosilicification-specific proteomics in the model diatom Thalassiosira pseudonana.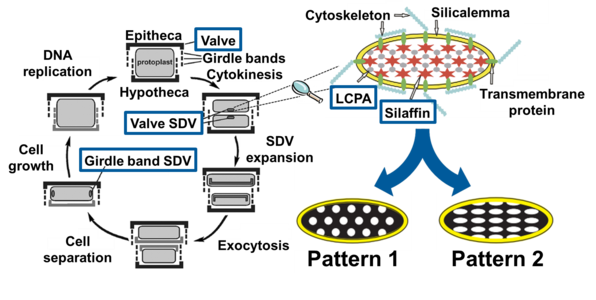 Figure 1 | Overview of the biosilicification process in diatoms. (Left) Diatom cell wall is synthesized inside an acidic compartment called the silica deposition vesicle (SDV). (Right) It is hypothesized that the interaction of silaffins with long-chain polyamines (LCPA) inside the SDV leads to the formation of an organic matrix, the structure of which is controlled by the silaffins (adapted from Kröger, 2007, and Kröger & Poulsen, 2008).
References
N. Kröger, Prescribing diatom morphology: toward genetic engineering of biological nanomaterials. Curr. Opin. Chem. Biol. 11, 662–669 (2007).
N. Kröger, N. Poulsen, Diatoms—From Cell Wall Biogenesis to Nanotechnology. Annu. Rev. Genet. 42, 83–107 (2008).
M. Hildebrand, S. J. L. Lerch, Diatom silica biomineralization: Parallel development of approaches and understanding. Semin. Cell Dev. Biol. 46, 27–35 (2015).
Figure 2 [A] Morphological diversity of diatom cell walls. The image represents cleaned diatom cell walls arranged in the star-like pattern by the UK-based microscopist and diatom artist Klaus Kemp. [B] SEM image of Thalassiosira pseudonana, the model diatom for biomineralization studies (credit: Nils Kröger). [C] Thalassiosira pseudonana cells. Red and green correspond to plastid autofluorescence and silica, respectively.
See poster links under the "Conferences" section for more details.
Funding
My work is supported by the Gordon and Betty Moore Foundation: "The Gordon and Betty Moore Foundation believes in bold ideas that create enduring impact in the areas of science, environmental conservation and patient care. Intel co-founder Gordon and his wife Betty established the foundation to create positive change around the world and at home in the San Francisco Bay Area. Science looks for opportunities to transform–or even create–entire fields by investing in early-stage research, emerging fields and top research scientists. Environmental conservation efforts promote sustainability, protect critical ecological systems and align conservation needs with human development. Patient care focuses on eliminating preventable harms and unnecessary healthcare costs through meaningful engagement of patients and their families in a supportive, redesigned healthcare system." Visit Moore.org or follow @MooreFound and read more about the broader research initiative my projects fall under on the following link.
Peer reviewed publications
Conrado RJ et al. 2012. DNA-guided assembly of biosynthetic pathways promotes improved catalytic efficiency. Nucleic Acids Res 40:1879–1889. DOI
Preprints
Turnšek J, Brunson JK, Deerinck TJ, Oborník M, Horák A, Bielinski VA, Allen AE. 2019. Phytotransferrin endocytosis mediates a direct cell surface-to-chloroplast iron trafficking axis in marine diatoms. bioRxiv DOI
Faktorová et al. 2019. Genetic tool development in marine protists: Emerging model organisms for experimental cell biology. bioRxiv DOI
Open source publications
Other publications
Creative writing
On scientific publishing
Reviewers should be paid.
All science should be free and publicly available.
Conferences
This meeting brought soft matter and polymer researchers together with molecular and cell biologists to discuss macromolecular phase separation and the physical nature of protein condensates.
Focusing on cell biology as the fundamental basis of biology and exploring more specialized fields, such as neurobiology and stem cell biology. You can find the poster I presented at this conference on this link.
ASM Microbe 2018, 7-11 June 2018, GWCC, Atlanta, GA
Connecting scientists with their science–showcases the best microbial sciences in the world, and provides a one-of-a-kind forum to explore the complete spectrum of microbiology from basic science to translation and application. You can find the poster I presented at the conference on this link.
This conference celebrated efforts of three major contributions to microeukaryote biology, ecology, and evolution that are catapulting the field forward: the Marine Microbial Eukaryote Transcriptome Sequencing Project (MMETSP), the Tara Oceans Expeditions, and the Malaspina Expedition. You can find the poster I presented at the conference on this link.
The Eleventh Annual Broad Institute Retreat, 14-15 December 2015, Hynes Convention Center, Boston, MA
This event brings together researchers and affiliates of the Broad Institute to discuss institute's most recent advances at the interface of science and technology. You can find the poster I presented at the retreat here
Wyss Institute 7th Annual Retreat, 19 November 2015, Seaport World Trade Center, Boston, MA
This event brings together researchers and affiliates of the Wyss Institute for Biologically Inspired Engineering to discuss institute's most recent advances at the interface of science and technology. You can find the poster I presented at the retreat on this link.
Molecular Life of Diatoms 2015 brought together an interdisciplinary mix of scientists to discuss recent advances in our understanding of diatoms and the way they shape our planet. You can find the poster I presented at the conference here.
Talks
Teaching & Community service
Mentoring a B.S. level scientist, JCVI, CA, April 17'-Sep 18'
Molecular cloning & microalgae genetic engineering.
Biochemistry Bootcamp Mentor, Wellesley College, Wellesley, MA, January 2015
I served as a mentor for the inaugural biochemistry bootcamp aimed at promising undergraduates at Wellesley College. Students expressed a protein in bacteria, purified it, assayed its activity, and presented their findings to their classmates. I directly supervised a pair of undergraduate participants. The administrators at Wellesley agreed to offer this bootcamp opportunity to students again in 2016.
Outreach
My PhD project in plain English
3 slides describing my PhD project in simple terms can be found here.
Science Art
In the news
Resources
Classic and other interesting papers
Brenner, S. (1997) In theory. Cell. 7, 3: PR202.
Blobel, G. (1980) Intracellular protein topogenesis. Proc. Natl. Acad. Sci. U. S. A. 77, 3: 1496–1500.

McFall-Ngai M. et al. (2013), Animals in a bacterial world, a new imperative for the life sciences. Proc. Natl. Acad. Sci. U. S. A. 110, 9: 3229–3236.

Haldane, J.B.S. (1926) On Being the Right Size.
Books to read
In the Company of Microbes: Ten Years of Small Things Considered (Moselio Schaechter)

On Growth and Form (D'Arcy Wentworth Thompson)

Cell Biology by the Numbers (Ron Milo, Rob Phillips, Nigel Orme)

The Major Transitions in Evolution (Eörs Szathmáry, John Maynard Smith)

A Brief History of Time (Stephen Hawking)
Lateral Thinking: Creativity Step by Step (Edward de Bono)

Past Affiliations
Ginkgo BioWorks, Inc., Boston, MA (10/2012 - 06/2013) | Ginkgo BioWorks
Jerala Lab at the National Institute of Chemistry, Ljubljana, Slovenia (05/2010 - 07/2012) | Jerala Lab
Selected Awards & Accomplishments
Education
Sports
Personal records
You can find reflections on my first Ironman 70.3 journey on this link.
Podcasts
Science, Technology, Entertainment, Design
Sports
EDM
Slovenian
Other
Web
Marine Microbiology
Science, Technology, Entertainment, Design
Sports
EDM
Word plays & puns
I know a spunful of them! (referring to puns)
soupergirl/souperman (when multitasking which involves cooking soup)
just do it (when sharing words of encouragement with someone named Du)
room for improvement (e.g. when discussing and referring to downsizing and decluttering your room)
unbrewlieavable (e.g. coffee cup)
to hit the grant running (=to start working on your grant proposal)