Lippard:Lab Members
From OpenWetWare
Jump to navigation
Jump to search
Lippard Lab home
Current
Stephen J. Lippard
Stephen J. Lippard, whose research spans the fields of biological and inorganic chemistry, is the Arthur Amos Noyes Professor of Chemistry at the Massachusetts Institute of Technology.
In 2006, Lippard received the National Medal of Science, the highest science honor in the United States. He was cited for "pioneering research in bioinorganic chemistry, including the interaction of metal compounds with DNA, preparation of synthetic models for metalloproteins, and structural and mechanistic studies of methane monooxygenase."
Lippard has been elected to the National Academy of Sciences, the National Institute of Medicine and the American Academy of Arts and Sciences. He has also received several awards from the American Chemical Society — the ACS Award in Inorganic Chemistry in 1987, the ACS Award for Distinguished Service in Inorganic Chemistry in 1994, the Bader Award in Bioinorganic or Bioorganic Chemistry in 2004 and several local section awards including the 1995 William H. Nichols Medal of the New York Section of the ACS and the Theodore W. Richards Medal, Northeastern Section of the ACS, in 2002
In 1985 he won the Henry J. Albert Award of the International Precious Metals Institute for his work on platinum metals and their interactions with nucleic acids, and in 1988 he received the Alexander von Humboldt Senior U.S. Scientist Award.
Lippard was born Oct. 12, 1940 in Pittsburgh, Pa., and earned his bachelor's degree at Haverford College in 1962. After earning his Ph.D. from MIT in 1965, he spent a year as a postdoctoral fellow at MIT. He then joined the faculty at Columbia University as an assistant professor in 1966, was promoted to associate professor in 1969 and full professor in 1972.
In 1983, he returned to MIT as professor of chemistry, and he served as head of the chemistry department from 1995 to 2005.
He is the author of more than 680 articles in professional and scholarly journals and two textbooks, including "Principles of Bioinorganic Chemistry." He is also an associate editor of the Journal of the American Chemical Society and holds several U.S. and foreign patents.
From 1991 to 1995, Lippard and his wife, Judy, served as housemasters at MIT's MacGregor House dormitory. During that period he taught a course on Baroque Musical Instruments and Performance. In his free time, he enjoys playing the harpsichord and is an early morning jogger along the Charles River.
Synthetic Subgroup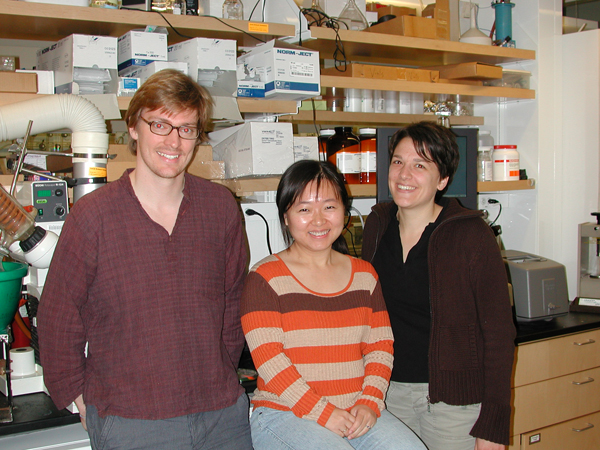 Bacterial Multicomponent Monoxygenase Subgroup
Platinum Subgroup
Metalloneurochemistry Subgroup
Former
to be filled in
Lippard Lab home