Principal Investigator
Gangqing (Michael) Hu, Ph.D
07/2019 - Present: Tenure Track Assistant Professor
07/2019 - Present: Director of the Bioinformatics Core
Department of Microbiology, Immunology, and Cell Biology
School of Medicine
West Virginia University
07/2013-06/2019: Staff Scientist
National Heart, Lung, and Blood Institute, National Institutes of Health
07/2009-06/2013: Postdoctoral Associate
National Heart, Lung, and Blood Institute, National Institutes of Health
09/2004 - 08/2009: Ph.D. in BME
Peking University, Beijing, China
09/2000 - 07/2004: B.S. in Theoretical and Applied Mechanics
Peking University, Beijing, China


Postdoctoral Associates
Muhammad Shahid
10/2020 ~ Present
Shahid joined the lab as a senior postdoctoral fellow in october 2020. Before joining WVU, he completed his postdoc at Cedars Sinai Medical Center. He received his PhD in cancer biology from School of Medicine, Kyung Hee University, South Korea. His current research focuses to study epigenetic changes by the tumour microenvironment or drug treatment using various biochemical techniques and bioinformatics in the setting of multiple myeloma.



Graduate Students
Sebastian Adam Dziadowicz
01/2020 ~ Present
Joined as a PhD student in Immunology and Microbial Pathogenesis at WVU. Sebastrian received his bachelor's in immunology and medical microbiology from West Virginia University (class of 2019). His current work revolves around studying epigenetic changes that occur in multiple myeloma cells following stimuli from the tumour microenvironment or drug treatment. In his free time he enjoys exploring the wonderful state of West Virginia.



Halima Akhter
Will join as a PhD student in Computer Science at WVU in Spring 2021. Halima got her Bsc. in Computer Science from Stamford University Bangladesh (class of 2014). Afterwards, she has worked as a software engineer in several multinational companies, focusing on machine learning and human-computer interactions. She likes to work with BIG data, implement computational algorithms, and figure out innovative ways for data visualization. Besides, she enjoys reading books, listening to music, and writing blogs on computer programming.



Master Students
Drake Aesoph
08/2020 ~ Present
Joined as a MS in Computer Science at WVU. Drake earned his bachelor's degree in computer science at California University of Pennsylvania (class of 2020). While there, he was a member of the ALD national honor society, served as multiple officers of the Lion's club, and received the Arthur & Millicent Gabriel Math, CS/CIS Merit Award. In his free time, he enjoys making music, programming, and running.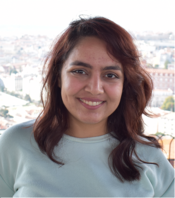 Jasleen Gandhi
08/2020 ~ Present
Joined as a MS in Biomedical Sciences. Graduated with two bachelor's degrees in biology and multidisciplinary studies with minors in psychology, leadership studies, and nutrition from WVU (class of 2020). Interested in genomics, microbiome research, and computational neuroscience. Received the International Student Tuition Merit Award, Sidney Harman Vision Scholarship, Office of Global Affairs Scholarship, Honors Dean's List 2015-2020 as an undergraduate. Enthusiastic about traveling, volunteer service, and art in her spare time.




Undergraduate Students
Jacob Nead (Class of 2020)
07/2020 ~ Present
Jacob is an undergraduate student pursuing a double major in biology and forensic science with a minor in religious studies at WVU. As a multi-time recipient of the Dean's list, he has great interests in diverse applications of genomics, genetics, and epigenetics with specific consideration to forensic human identification and environmental conservation of species. He plans to pursue a Master's degree for molecular biology or related field. Rock climbing, hiking, and traveling are his favorite extracurricular pastimes.



Nikki Cannon (Class of 2022)
07/2020 ~ Present
Nikki is an undergraduate student majoring in Biology at WVU. She joins the lab with many honors and awards including the President's List (2018, 2019, 2020), Outstanding Student (2020), Whitmore-Gates Scholar Award (2020), and General Chemistry Award (2019). She is interested in microbiology, immunology, and genomics research. Her graduate educational goals include advancing research in host-microbiome interactions and continuing education in microbiology and bioinformatics. She enjoys gardening, kayaking, and reading.




Emily Lecea (Class of 2023)
07/2020 ~ Present
Emily, President's List of 2020, is an undergraduate student currently studying Immunology and Medical Microbiology with a minor in Statistics at WVU. She is interested in epidemiology and genomics. Favorite things to do in her spare time include reading, puzzles, and video games.






Lev Invanov (Class of 2023)
07/2020 ~ Present
Lev is an undergraduate Bioengineering major at the University of Pittsburgh and member of the Swanson School of Engineering's and the Dean's Honors List. He is interested in Biomechanics, Tissue Engineering, and Biostatistics, with a specific interest in artificial organ development. His graduate goals revolve around the necessary qualifications and specifications to become a leading figure in artificial organ development. In his free time, Lev loves watching Soccer, reading, and playing video games.




Lab Alumni
Aniello Infante, M.A., M.S., M.Sc.
07/2019 ~ 01/2020: Bioinformatician
Nicolas Bugueno
06/2020 ~ 08/2020: undergraduate in Chemistry, University of Tennessee (Class of 2020)