User:Norman Wang
From OpenWetWare
Jump to navigation
Jump to search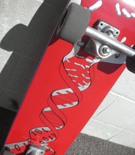 Senior Research Scientist at Universal Bio Mining.
Education
2006-2012, PhD, Molecular Biosciences and Bioengineering, University of Hawaii at Manoa
2001-2003, MS, Bioinformatics, Northeastern University
1996-2000, BS, Biology, University of California Santa Barbara
Relevant Career Experience
2013-, Senior Research Scientist
2012-2013, Universal Bio Mining Senior Research Scientist
2011 Brown-Stanford iGEM Team Graduate Student Advisor
2008 Hawaii iGEM Team, Graduate Student Advisor
2003-2006, Biogen Idec, Boston, Protein Evolution, Antibody Engineering, Cheminformatics, Protein Engineering
2002, Pharmacopeia, New Jersey, Cheminformatics
Current Research
Massively parallel gene synthesis, verification and assembly platform
Past Research
Bioleaching of sulfide ores for gold and copper using chemolithotrophic bacteria
In-Situ Resource Utilization (ISRU) of Lunar & Martian regolith
Horizontal transfer and characterization of carboxysomes from Halothiobacillus neapolitanus to E. coli
Cyanobacteria Synechocystis sp. PCC6803, inorganic carbon uptake and fixation, PHB biosynthesis.
Hawaiian Algal Database (HADB): database specializing on morphology and DNA sequence data of Hawaiian algae.
Hawaiian Fresh Water Algal Database (HfwADB): database on freshwater algae of the Hawaiian Islands.
Research Interests
Carbon fixation and carboxysome structure of cyanobacteria and chemolithotrophic bacteria
Synthetic Biology: Modularization of Biological Components & Pathways for Synthesizing Biofuels & Polymers
Computatonal Biology/Bioinformatics
Protein Engineering
Awards & Scholarships
MIT iGEM 2011 Competition, Brown-Stanford: Best Presentation, Americas; Best New Application Area; Gold Medal
MIT iGEM 2008 Competition, Hawaii: Best Rookie Team, Bronze Medal
2011 NASA Planetary Biology Internship award
UCSB College of Creative Studies fellowship
Publications
Montague, M., McArthur IV, G.H., Cockell, C.S., Held, J., Marshall, W., Sherman, L.A., Wang, N., Nicholson, W.L., Tarjan, D.R., Cumbers, J., 2012. The role of synthetic biology for in situ resource utilization (ISRU). Astrobiology. Pubmed

Sherwood, A.R., Wang, N., Carlile, A.L., Neumann, J.M., Wolfgruber, T.K., Presting, G.G., 2012. The Hawaiian Freshwater Algal Database (HfwADB): a laboratory LIMS and online biodiversity resource. BMC Ecology 12, 22. PubMed

Wang, N., Smith, W. F., Miller, B. R., Aivazian, D., Lugovskoy, A. A., Reff, M. E., Glaser, S. M., Croner, L. J., Demarest, S. J., Conserved amino acid networks involved in antibody variable domain interactions, Proteins: Structure, Function, and Bioinformatics, 2009, 76, 99-114. PDF / File / PubMed

Wang, N. & Tiffney, B. H., Seeds of Rhododendron (Ericaceae) from the Late Eocene of California. Palaeontographica, 2001, 245-254.
Laboratory
Other Relevant Accomplishments
United States Patent Application 11/283,650 20060206269: One-dimensional QSAR models (Pharmacopeia Drug Discovery, Inc.)
United States Patent Application 11/725,970 20080050370: Stabilized Polypeptide Compositions (Biogen Idec, Inc.)
Graduate Student Organization (GSO) Treasurer '07-'09
Introduced the GSO Campus Greening Initiative bill. Successfully advocated for and passed the bill in Dec. 2008 by the GSO Assembly (representing over 5000 graduate students) to create a $75k revolving fund to support oncampus efficient energy usage, renewable energy generation, and sustainability related projects.
Misc
Contact Info
Norman Wang <br\> Universal Bio Mining <br\> 665 3rd Street, Suite 230 <br\> San Francisco, CA 94107 <br\> Email me through OpenWetWare