Talk:20.109(F10): Mod 1 Day 3 Agarose gel electrophoresis
From OpenWetWare
Jump to navigation
Jump to search
Here is an example of a gel with all the expected bands, as well as a gel with the needed bands excised.
You can use these in your lab report if you so choose.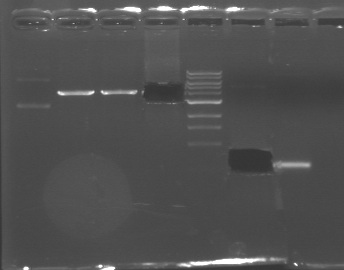 T/R lab
| | | | |
| --- | --- | --- | --- |
| Red | Orange | Yellow | Green |
| | | | |
| Blue | Pink | Purple | Grey |
| | | | |
And here's the gel with your recovered fragments/backbones, ready for ligation. The brightest band on 1kb Ladder indicates 250ng of DNA
Orange Team: In regards to your missing backbone, you might have too little backbone in the beginning or you've mistakenly discarded your backbone during gel purification process. Don't worry, you can certainly ask your neighbors or another group for some of their backbone to do ligation in the next lab. There should be plenty to use for everyone!
And here are the raw images of the recovery gel. You may use this in your progress report!