OhioMod2013:Methods/folate
From OpenWetWare
Folate-PEG-amine Synthesis
The folate receptor is overexpressed in cancer cells, especially with ovarian malignancies. This can attributed to the need for the cancer cells to take in more folic acid, otherwise known as vitamin B9, eessential for rapid cell division. Therefore there seems to be potential to attaching folate to our nanoparticles to increase their selectivity towards the Folate Receptor expressing cancer cells. We also know that this sort of targeting has shown to be more effective when the folate is coupled with a PEG spacer. Since we are using PEG to coat the CPNPs, it is consistent for us to try the same strategy. Much of this protocol comes from W.E. Hennink's lab in the Netherlands[1] and from Xiaboin Zhao's thesis in Dr. Robert Lee's lab from Ohio State.
Materials
Folic acid dihydrate
polyethylene glycose bis-amine
Discuccinimidyl suberate(DSS)
Dimethyl Sulfoxide
N-hydroxysuccinimide (NHS)
Triethylamine
Protocol Taken from Steenis' protoco[1]
Folic acid (1.0 g) dissolved in DMSO (40 ml) and presence of triethylamine (0.5 ml).
Add NHS (0.52 g, 2.2 equiv) and DCC. Stir mixture in dark for 18 hrs
Filter to remove dicyclohexylurea. Evaporate away triethyylamine by reduced pressure.
Store NHS-Folate as solution. (Take 363 nm spectroscopy for conc.)
Add FA-NHS (148μmol from stock solution above) to PEG-bis-amine (500 mg, 147 μM) in DMSO (5.0 ml) with presence of triethylamine (4.0 μL).
Stir mixture overnight
Next morning, purify by gel-filtration over Sephadex G-25 column with 0.1 M NaHCO3 to filter out unconjugated folic acid. D
Desalt over a similar column.
Lyophilize (freeze-dry) to remove solvent
Dissolve in acetate buffer (5 ml, 0.1 M, pH 4.6).
Run through SP-sephadex C25 cation-exchanger to remove unreacted PEG-bis-amine.
Desalt
Lyophililze
At this point, one may realize that we cannot have eliminated the bis-conjugate folate-PEG-folate. This is certainly a possibility, but we don't have to worry about its presence.
Take 50 mg, dissolve in DMSO (5.0 ml) containming triethylamine (4.0 μL) as a base.
Add ten-rold excess of DSS (12.5 mg).
Stir overnight
Precipitate by adding diethyl ether.
Redissolve in CH2Cl2 and filter.
Remove solvent under reduced pressure.
Dissolve in DMSO, purify over Sehapdex LH-20 column using DMSO as eluent.
Precipatate from ether.

Notes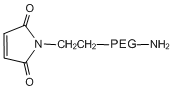 Maleimide-PEG-amine can be purchased from Nanocs for 245 dollars for 100 mg.
The maleimide serves for thiol conjugation. A PEG with maleimide will attach the cysteine of whatever protein we decide to use.