Koch HTS Facility:Instrumentation
From OpenWetWare
Jump to navigation
Jump to search
.
Koch HTS Facility Instrumentation
Two Evo 150 Liquid Handling Decks In Baker Hood (HEPA) Enclosures
Small molecule library arraying and cherry picking
Automated cell plating, administration and removal of compounds via integrated automated CO2, temp, and humidity incubator
Integrated Robotic Automated Assay Platform
Tecan Evo 150 liquid handling deck for compound and reagent delivery
BioTek 406 plate washer (cell plating and washing, ELISA-type assays)
Automated microplate centrifuge
Integrated with Tecan M1000 Plate Reader, Arrayscan Screening Microscope (see below for details)
Tecan M1000 Plate Reader
Flexible wavelength selection from UV to NIR
Absorbance, luminescence, fluorescence intensity (top and bottom reading), TRF, TR-FRET, fluorescence polarization
AlphaScreen and AlphaLISA technology
NanoQuant Plate compatibility for nucleic acid quantification
Arrayscan VTI High Content Screening Microscope
LED Light Engine designed for high performance excite blue (e.g. Hoechst), green (e.g. FITC, GFP), orange red (e.g. TRITC), deep red (e.g.. Texas Red), and long red (e.g. Cy5) fluorochromes
5X-10X-20X objectives
BL2+ cell culture hoods and 4 HeraCell incubators
Tecan Evo 150 liquid handling deck for cell plating and lentiviral manipulation
Biotek EL406 Plate Washer
KBio WASP Plate Sealer
Agilent VSpin Centrifuge with Access2 robotic loader
Enclosed robotics platform for packaging, manipulation and screening of lentiviral shRNA (RNAi) vectors integrated with a Liconic incubator for storage after cell plating
Tecan Evo 100 Liquid Handler
MCA96 liquid handling head
RoMa plate crane
On-deck plate stackers
Integrated Tecan HydroSpeed Plate Washer
Integrated Liconic STX110 incubator with temperature, humidity, CO2 control
Tecan Evo 100 Liquid Handler
LiHa 8-channel head
RoMa plate crane
On-deck plate stackers
Fixed tips for small molecule library arraying and cherry picking
Tecan Evo 150 Liquid Handler
MCA96 liquid handling head
LiHa 8-channel head
96 Pintool (25, 100, 250nL fixed volume)
384 Pintool (50nL fixed volume)
Pin washing/drying/blotting stations
BioTek El406 Plate Washer/Dispenser
The EL406 Combination Washer Dispenser offers fast, full plate washing along with three reagent dispensers in one, compact instrument… all from the recognized industry leader. The EL406 is the latest advancement in 1536-, 384- and 96-well microplate washing and dispensing incorporating BioTek's patented Dual-Action™ manifold, optimized washing for loosely adherent cell monolayers, built-in patented Ultrasonic Advantage™ for unattended wash manifold maintenance and up to four wash buffers for complex wash routines.
Agilent VSpin with Access2
The Agilent Microplate Centrifuge offers stable high-speed centrifugation for 3-second cycle times. The Microplate Centrifuge is a small robot-accessible automated centrifuge that provides both vibration and noise control in a small, low-maintenance package. Ideal for high- or medium-throughput applications such as PCR purification, cell harvesting, and air bubble removal in high-density microplates, the Microplate Centrifuge is capable of rapid customizable acceleration and deceleration, minimizing the required cycle time. With a 3-second loading time and robust motion control, the Microplate Centrifuge can be accessed by most laboratory microplate handlers/robots.
Thermo ArraySCAN VTI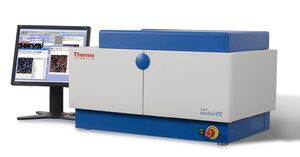 Fully automated microscope optics by Carl Zeiss
Automated Stage with micro-plate insert.
High-resolution, shutterless cooled CCD camera.
High intensity white light source delivering a broad (350 to 700nm) illumination spectrum.
Automated objective changer containing 5X Fluar, 10X EC Plan NeoFluar, 10X Plan Apochromat, and 20X LD Plan-Neofluar.
Automated excitation filter wheel and automated dichroic / emission cube turret for efficient automated imaging of combinations of dyes covering blues (e.g. Hoechst), greens (e.g. FITC, GFP), orange reds (e.g. TRITC), deep reds (e.g. Texas Red), and long reds (e.g. Cy5);
Laser scanning barcode reader.
ArrayScan HCS Reader software or scanning and quantitative cell analysis, autofocus, autoexposure, and cell subpopulation analysis tools.
Thermo Infinite M1000 Plate Reader
Multi-channel absorbance
AlphaScreen® and AlphaLISA® technology
Fluorescence intensity (FI) top reading, including TRF and TR-FRET/HTRF® (in white plates)
Fluorescence intensity bottom reading
Excitation, emission, absorbance and 3D scans
Flexible wavelength selection from UV to NIR
Adjustable bandwidth settings (patented)
Fast fluorescence polarization
Luminescence: attenuation capability of high light levels, luminescence scan, luminescence color-filters
z-Focusing in all top reading modes
NanoQuant Plate compatibility
Intellicyt iQue Screener
High-Throughput Flow Cytometer
high throughput flow cytometer that uses a patented "air gap delimited" aspiration using a contact sensing probe to map microplane

two solid state lasers: blue (488 nm) and red (633 nm); four simultaneous collection channels; FL1 - 533/30 nm, FL2 - 585/40 nm, FL3 - > 670 nm, FL4 - 675/25 nm

compatible with 96 or 384-well formats

small sampling volumes, as low at 2 ul; can read a 96-well plate in as little as 5 minutes and a 384-well plate in 25 minutes

used for small molecule screening, live-dead assays and antibody binding experiments

BL2+ Equipment
Tecan Evo 150 Liquid Handler
MCA96 liquid handling head
RoMa plate crane
Integrated HighRes Biosolutions MicroServe automated, non-random access plate/tip storage
Cell Plating and Lentiviral manipulation
Automated HighRes Biosolutions system available for packaging, manipulation and screening of lentiviral shRNA (RNAi) vectors integrated with Liconic STX110 incubator for plate storage