CHAI BIOCHEMISTRY RESEARCH GROUP: Publications
From OpenWetWare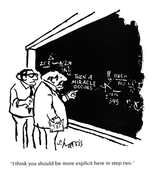 Journal Papers
Book Chapters
Chai TT, Wong FC, Abd Manan F, Ooh KF, Mohd Ismail NI (2014) Orthosiphon aristatus: A review of traditional uses, phytochemical profile, and pharmacological properties. In: Traditional and Folk Herbal Medicine: Recent Researches Volume 2, 1st edition, V.K. Gupta (Ed), Daya Publishing House, New Delhi, pp.153-187.


Research Reports
Chai TT, Fadzillah NM, Kusnan M, Mahmood M (2005) The effect of oxidative stress on 'Berangan' and 'Mas' cultivars. Infomusa. International Network for the Improvement of Banana and Plantain, Montpellier, France: 14 (2): 32-35.


Proceedings
Chai TT, Fadzillah NM, Kusnan M, Mahmood M (1999) Induction of oxidative stress in Musa sp. (Variety Berangan) by paraquat treatments. In Proceedings of the First National Banana Seminar, ed. Z. Wahab et al., p. 186-190. Universiti Putra Malaysia, Universiti Malaya, and Malaysian Agricultural Research and Development Institute.


Scientific Presentations
Chai TT, Kwek MT, Wong FC (2015) Phenolic-rich water fraction of edible medicinal fern Stenochlaena palustris is a potent antiglucosidase and antioxidant agent. (Talk presented at International Symposium on Phytochemicals in Medicine and Food, ISPMF 2015. 26-29 June 2015, Shanghai Normal University, China)


Yong AL, Ooh KF, Ong HC, Chai TT, Wong FC (2015) Investigation of antibacterial mechanism and identification of bacterial protein targets mediated by three antibacterial plant extracts. (Talk presented at International Symposium on Phytochemicals in Medicine and Food, ISPMF 2015. 26-29 June 2015, Shanghai Normal University, China)


Ooh KF, Wong FC, Chai TT (2015) Limnocharis flava: Evaluation of bioactivities and HPLC profiling of phenolic constituents. (Talk presented at UTAR National Postgraduate Fundamental and Applied Sciences Seminar 2015. 29-30 May 2015, Universiti Tunku Abdul Rahman, Malaysia)


Tan ST, Chai TT, Wong FC (2015) Determination of anti-proliferative properties of tropical fern species and their influences on cancer protein profiles. (Poster presented at UTAR National Postgraduate Fundamental and Applied Sciences Seminar 2015. 29-30 May 2015, Universiti Tunku Abdul Rahman, Malaysia)


Quah Y, Lim CR, Lim JW, Mohd Ismail NI, Chai TT (2015) Medicinal fern Christella dentata: Antiproliferative and apoptotic effects in K562 cell line. (Poster presented at UTAR National Postgraduate Fundamental and Applied Sciences Seminar 2015. 29-30 May 2015, Universiti Tunku Abdul Rahman, Malaysia)


Law YC, Kwek MT, Mohd Ismail NI, Ooi JLC, Yang Amri A, Abd Manan F, Wong FC, Chai TT (2015) Tropical green seaweed Avrainvillea erecta: Evaluation of antioxidant capacities of methanol extract and solvent fractions. (Poster presented at UTAR National Postgraduate Fundamental and Applied Sciences Seminar 2015. 29-30 May 2015, Universiti Tunku Abdul Rahman, Malaysia)


Chai TT, Quah Y, Mohd Ismail NI (2014) Phytochemical profiling and assessment of bioactivities of highland ferns. (Talk presented at the International Conference on Natural Products 2014, organized by Universiti Kebangsaan Malaysia & Malaysian Natural Product Society. 18-19 March 2014, Putrajaya, Malaysia.)


Ooh KF, Wong FC, Chai TT (2014) Wetland macrophytes: HPLC analysis of flavonoid constituents and evaluation of bioactivities. (Talk presented at the International Conference on Natural Products 2014, organized by Universiti Kebangsaan Malaysia & Malaysian Natural Product Society. 18-19 March 2014, Putrajaya, Malaysia.)


Chai TT (2013) Bioprospecting of freshwater macrophytes for bioactivity. (Talk presented at the International Conference on Natural Products 2013, organized by UiTM and Malaysian Natural Product Society. 4-6 March 2013, Shah Alam, Malaysia.)


Chai TT (2012) Bioactive properties of local medicinal plants. (Talk presented at the Agriculture Technology Seminar (Series V) - Agro-Biodiversity, organized by Centre of Biodiversity Research, UTAR. 19 May 2012.)


Chai TT, Simmonds D, Day D, Colmer T, Finnegan P (2009) Photosynthetic performance and fertility were repressed in GmAOX2b antisense soybean. (Poster presented at the International Conference of Plant Mitochondrial Biology. May 2009, Lake Tahoe, USA)


Chai TT, Simmonds D, Day D, Colmer T, Finnegan P (2008) Reproductive success was repressed in GmAOX2b antisense soybean. (Poster and poster flash presented at the First International Alternative Oxidase (AOX) Symposium. October 2008, Evora, Portugal)


Chai TT, Colmer T, Finnegan P (2007) Non-Mendelian inheritance of an antisense GmAOX2b transgene in soybean. (Poster presented at the 2007 Combined Biological Science Meeting, The University of Western Australia)


Chai TT, Fadzillah NM, Kusnan M, Mahmood M (2005) Antioxidant metabolism of banana cultivars under water stress. (Poster presented at the Malaysian Scientific Association Golden Jubilee International Science Congress. August 2005, Kuala Lumpur, Malaysia.)


Chai TT, Fadzillah NM, Mahmood M, Kusnan M (2000) Aminotriazole-induced biochemical changes in banana leaves. (Poster presented at the Second National Banana Seminar. September 2000, Terengganu, Malaysia.)


Last updated: 05/07/2015
<html> <body width="720"> <!-- Start of StatCounter Code for Default Guide --> <script type="text/javascript"> var sc_project=10715364; var sc_invisible=0; var sc_security="a3fad73d"; var scJsHost = (("https:" == document.location.protocol) ? "https://secure." : "http://www."); document.write("<sc"+"ript type='text/javascript' src='" + scJsHost+ "statcounter.com/counter/counter.js'></"+"script>"); </script> <noscript><div class="statcounter"><a title="shopify visitor statistics" href="http://statcounter.com/shopify/" target="_blank"><img class="statcounter" src="http://c.statcounter.com/10715364/0/a3fad73d/0/" alt="shopify visitor statistics"></a></div></noscript> <!-- End of StatCounter Code for Default Guide --> <br><a href="http://statcounter.com/p10715364/?guest=1">Website Statistics</a> </body>
</html>