20.109: 2-component signaling
From OpenWetWare
Jump to navigation
Jump to search
Module for F'12
Mutagenesis of T541
Oligos for screen
NO304: K+P- screen of T541, mutagenesis oligo:

5'--CTG GCG GAT GAC CGC ACG CTG CTG ATG GCG GGG GTA AGT CAC GAC TTG CGC NNY CCG CTG ACG CGT ATT CGC CTG GCG ACT GAG ATG ATG -3'
NO305: complementary oligo that binds to 3' end of mutagenic oligo and builds plasmid around the horn:
5'- CAT CAT CTC AGT CGC CAG GCG AAT ACG CGT CAG -3'
Module for F'11
Remade reporter strain NB462 and tested for induction--using antibiotics at: Amp25, Cam34, Kan10, and including Kan10 always.
Remade library K+P- and K-P+. Used H557A as control for K-P+ screen
Retested indicator media. Phenol red failed, but Z4 gave clear colonies in dark and red colonies in light (except where dense).
Students will try to identify K-P+ mutants that appear more red in light, i.e. lower units in light, then check to see if dynamic range improved or if all activity diminished
Day 1: set up dark/light system in plates, liq culture
Day 2: b-gal assay of cultures, set up photo
Day 3: transform library and screen, recapitulate setup electronically
Day 4: Journal club I, re-streak candidate, <teacher ONs in light and dark>
Day 5: DNA for seq, and b-gal assay
Day 6: Protein gel and blot, seq data, photo?, other assays
Day 7: Probe blot, other assays
Day 8: Journal club, data back
Oligos ordered for F'11 screen
NO294: K-P+ library, mutagenesis of A553:

5'- CAT ATG GCG GCT GGT GTT AAG CAA CTG GCG GAT GAC CGC ACG CTG CTG ATG RNS GGG GTA AGT CAC GAC TTG CGC ACG CCG CTG ACG CGT -3'
NO295: K-P+ control, mutagenesis of H557A (CAC to GCC)

5'- T GAC CGC ACG CTG CTG ATG GCG GGG GTA AGT GCC GAC TTG CGC ACG CCG CTG ACG CGT -3'
NO296: fwd seq primer, starts at ~3500 in pCph8

5'- TCG TCA ACC TCA TTT TGC GCC AG -3'

23 mer, Tm = 60.3 ºC
NO297: fwd seq primer, start just upstream of Cph8 promoter

5' TCATGACATTAACCTATAAAAATAGGCGTATCACG
in map bp 1860-1894
35mer, Tm 58.2°C
Useful links
Useful Images and Files
References
Synthetic biology: engineering Escherichia coli to see light. Levskaya A, Chevalier AA, Tabor JJ, Simpson ZB, Lavery LA, Levy M, Davidson EA, Scouras A, Ellington AD, Marcotte EM, Voigt CA.
Nature. 2005 Nov 24;438(7067):441-2. PMID: 16306980 and pdf
K-P+ and K+P- mutations
06.16.09 email from Mike: As for the EnvZ mutants, here's the list we've compiled from the literature. Keep in mind that K+P- really means a shift in the balance of kinase and phosphatase activities and similarly for the K-P+ alleles. None of them is perfectly "clean" in eliminating one of the activities:
K+P-
V241G = V555G in Cph8
G240E = G554E in Cph8
S242D = S556D in Cph8
P248Q
T247R
Q283P
Y287D
L288P
K-P+
A239T = A553 in Cph8
N343K
F390L
H243A = H557A in Cph8
NK note: relevant reference:
Mutations that alter the kinase and phosphatase activities of the two-component sensor EnvZ. Hsing W, Russo FD, Bernd KK, Silhavy TJ. J Bacteriol. 1998 Sep;180(17):4538-46. PMID: 9721293
The role of the G2 box, a conserved motif in the histidine kinase superfamily, in modulating the function of EnvZ. Zhu Y, Inouye M. Mol Microbiol. 2002 Aug;45(3):653-63. PMID: 12139613
Primers
NO281 = KP randomized template
5' CATATGGCGGCTGGTGTTAAGCAACTGGCGGATGACCGCACGCTGCTGATG RNS RNS RNS RNS SNW GACTTGCGCACGCCGCTGACGCGT

NO284 = P+ randomized template
5' CATATGGCGGCTGGTGTTAAGCAACTGGCGGATGACCGCACGCTGCTGATG RNS GGG GTA AGT SNW GACTTGCGCACGCCGCTGACGCGT

NO285 = K+ randomized template
5' CATATGGCGGCTGGTGTTAAGCAACTGGCGGATGACCGCACGCTGCTGATG GCG RNS RNS RNS CAC GACTTGCGCACGCCGCTGACGCGT

NO282 = KPLibrary_fwd_1535_1573
5' CAGAAGAATTGCATATGGCGGCTGGTGTTAAGCAACTGG

39 mer
Tm (all) = 66.3 ºC
Tm (landing, 28 mer) = 63.3 ºC
NO283 = KPLibrary_rev_1643_1609
5' AGGCGAATACGCGTCAGCGGCGTGCGCAAGT

31 mer
Tm (all) = 72.1 ºC
Tm (landing, 23 mer) = 70.5 ºC

NO290 = LibraryBuilder_rev
33mer
5' ATC CGC CAG TTG CTT AAC ACC AGC CGC CAT ATG
Tm = 67°
should hybridize to 5' end of K+ and P+ template oligos (NO284, NO285) to go 'round the horn for library
NO279 = GFPfiller_Nde_fwd
5' CATTAGCATATGGGATCCTAAGAGGGCGAGGGCGATGCCACC
42 mer
Tm (all) = 69.7 ºC
Tm (landing, 24 mer) = 67 ºC
NO280 = GFPfiller_Mlu_rev
5' CATTAGTGCGCAGATATCTTACTTGTACAGCTCGTCCATGC
corrected: 5' CATTAGACGCGTGATATCTTACTTGTACAGCTCGTCCATGC
41 mer
Tm (all) = 64.6 ºC
Tm (landing, 23 mer) = 57 ºC

NO288= GFPfiller_Nde_rev
5'CATTAGCATATGGATATCTTACTTGTACAGCTCGTCCATGC
Tm (all) = 62.6 ºC
Tm (landing, 23 mer) = 57 ºC

NO293= sequencing pCph8 around K+ randomized sequences
5'CTC ATA GCC ACT TTC GGC AGC AAT
Possible ways to epitope tag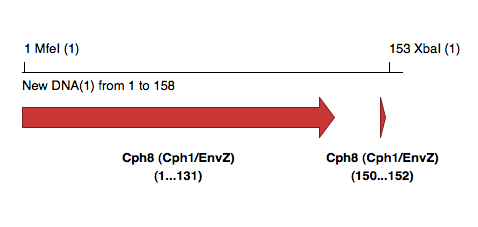 All tags at C-terminus, with intention to clone product using unique MfeI and XbaI in pCph8
HA
9-amino acid sequence (YPYDVPDYA) recognized by the anti-12CA5 (=anti-HA)
reverse translate at |Gene Design with E. coli codon bias
default settings gives sequence: TAC CCG TAC GAC GTT CCG GAC TAC GCT

caattgTGCAGCGTATCGTGGATAACCATAACGGGATGCTGGAGCTTGGCACCAGCGAGCGGGGCGGGCTTTCCATTCGCGCCTGGCTGCCAGTGCCGGTAACGCGGGCGCAGGGCATGACAAAAGAAGGGTACCCGTACGACGTTCCGGACTACGCTTAAtctaga
to PCR from DNA2.0 vector
NO286=HAfrag_fwd

5' GTCGCTGAACAATTGTGCAGCGTATCGTGG
Tm = 61.0 ºC

NO287=HAfrag_rev

5' GAACTCGATTGACGTCTAGATTAAGCGTAG
Tm = 58.1 ºC
to check insert of HA in pCph8
NO289 = Cph8+HAseqprimer_bp135_rev
His6
6 Histidine sequence from pET-45b(+) bp 4963-4980 (Novagen product)
caattgTGCAGCGTATCGTGGATAACCATAACGGGATGCTGGAGCTTGGCACCAGCGAGCGGGGCGGGCTTTCCATTCGCGCCTGGCTGCCAGTGCCGGTAACGCGGGCGCAGGGCATGACAAAAGAAGGGcatcaccaccaccatcacTAAtctaga