User:Sabine Le Gall
From OpenWetWare
Contact Info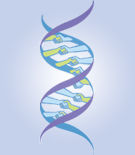 Sabine Le Gall
DEPARTMENT OF PLANT SYSTEMS BIOLOGY
VIB Department of Plant Systems Biology, Ghent University
Vlaams Interuniversitair Instituut voor Biotechnologie VIB
I am doing my phd through the Research Training Network CHIP-ET (http://www.chip-et.eu/)in Chromatin and Growth lab from Mieke Van Lijsebettens at the VIB in Gent, Belgium.
phd project
ESR2
Epigenomics of chromatin modification complexes and interactors and their cross-talk with the environment
The PhD project is based in Gent, but part of it will be done in Regensburg.
Transcriptional regulation is one of the major molecular mechanisms that controls plant growth and developmental pathways. Chromatin state determines transcriptional activity which is either repressed or active and might be especially important in the regulation of developmental transitions. Chromatin might act as an interface between environmental/developmental stimuli and the RNA polymerase II transcriptional machinery. We study the role of chromatin modifying complexes activating transcription during RNA polymerase II transcription elongation in plant growth and development. We focus on the Arabidopsis histone modifying complexes activating RNAPII transcription, Elongator, with histone H3 acetyl transferase activity, and HUB1, with histone H2B monoubiquitination activity which both promote leaf and root growth by cell proliferation. The project will focus on the cross-talk of Elongator and HUB1 with the environment, i.e. upstream signaling, interactors and downstream targets.
Applicants must hold a Diploma / Masters in Biotechnology or Biochemistry or Agricultural Engineering. A solid background and preferentially laboratory experience in the fields of molecular biology, genetics and biochemistry is required. Strong communication skills and knowledge of the English language are essential to work within the research team and the training network. The position is available from 1 October 2013.
The Plant Systems Biology (PSB) Department is a large department of the Flanders Institute of Biotechnology (VIB) that is situated at the Technology Park, 3 km from the centre of Ghent where approximately 750 persons are employed in Plant Biotechnology, of which 450 work for the Plant Biotech companies and 300 in the PSB department. The mission of PSB is to integrate genetics, genomics and bio-informatics to unravel the biology of plants and to explore the potential of plants to build a sustainable world. It is an international working environment, PhD students are enrolled the Ghent University doctoral school (http://www.ugent.be/doctoralschools/en/doctoraltraining) offering an excellent PhD training programme.

Himanen et al. Histone H2B monoubiquitination is required to reach maximal transcript levels of circadian clock genes in Arabidopsis. Plant J., 72, 249-260 (2012). Versées et al. M. Elongator, a conserved multitasking complex? Mol. Microbiol., 76, 1065-1069 (2010). Nelissen et al. Plant Elongator regulates auxin-related genes during RNA polymerase II transcription elongation. Proc. Natl. Acad. Sci. USA. 107, 1678-1683 (2010). Fleury et al. The Arabidopsis homolog of yeast BRE1 has a function in cell cycle regulation during early leaf and root growth. Plant Cell 19, 417-432 (2007). Nelissen et al. The elongata mutants identify the Elongator complex in plants with a function in cell proliferation during organ growth. Proc. Natl. Acad. Sci. USA 102, 7754-7759 (2005).
Education
2013,Research Master's Degree in integrative plant sciences and genetics at the University of Rennes 1 and Agrocampus Ouest, Brittany, France.
2011, Bachelor's Degree in plant sciences at the University of Rennes 1, Brittany, France
Professional experiences
Training placement at the Max Planck Institute for Plant Breeding Research (MPIPZ), Departement of Plant Breeding and Genetics, research group Pecinka (Genome and epigenome maintenance), Cologne, Germany. Director: Hon.-Prof. Dr. Maarten KOORNNEEF. Mentor: Dr. Ales PECINKA, group leader.
Training placement at the Center for Plant Molecular Biology (Zentrum für Molekularbiologie der Pflanzen, ZMBP), Plant Physiology department, research group Laubinger (MicroRNA Function and RNA Processing in Plants), University of Tübingen, Germany. Director: Prof. Dr. Klaus HARTER. Mentor: Dr. Sascha LAUBINGER, group leader. Subject: « Plant microRNA and function in response to light »
2012 Participation to the 23rd International Conference on Arabidopsis Research (ICAR) in Vienna and the following workshop on plant RNAs.
2011 (3 month)
Volunteer training placement at INRA of Rennes (French National Institute for Agricultural Research), UMR118, Amélioration des Plantes et Biotechnologies Végétales (Plant Improvement and Biotechnology, now IGEPP), in Ploudaniel. DsRNAguard project. Co-director: Jean-Eric CHAUVIN. Mentor: Murielle PHILIPPOT, Project Engineer. Subject: « Production, molecular and phenotypic characterization of potato mutant resistant to late blight »
Research interests
Interest 1
Interest 2
Interest 3
Publications
Useful links