User:Norman Wang
From OpenWetWare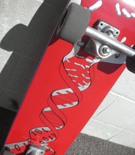 I work in the Presting Lab, MBBE department at the University of Hawaii.
Education
2006-?, PhD, Molecular Biosciences and Bioengineering, University of Hawaii at Manoa
2001-2003, MS, Bioinformatics, Northeastern University
1996-2000, BS, Biology, University of California Santa Barbara
Industry
2005-2006 Biogen Idec, San Diego, Protein Evolution, Antibody Engineering
2003-2005 Biogen Idec, Boston, Cheminformatics, Protein Engineering
2002 Pharmacopeia, New Jersey, Cheminformatics
Current Research
Hawaiian Algal Database (HADB)
Bioplastics & Biofuels from Cyanobacteria, PhD Thesis
2008 Hawaii iGEM Team Graduate Student Advisor
Research Interests
Biofuels/Biopolymers
Computatonal Biology/Bioinformatics
Protein Engineering
Publications
Wang, N., Smith, W. F., Miller, B. R., Aivazian, D., Lugovskoy, A. A., Reff, M. E., Glaser, S. M., Croner, L. J., Demarest, S. J., Conserved amino acid networks involved in antibody variable domain interactions, Proteins: Structure, Function, and Bioinformatics, 2008 (Accepted 2008.10.16), manuscript number Prot-00311-2008 PDF
Wang, N., DeLisle, R. K. & Diller, D. J., Fast small molecule similarity searching with multiple alignment profiles of molecules represented in one-dimension. J. Med. Chem., 2005, 48, 6980-90. PDF
Wang, N. & Tiffney, B. H., Seeds of Rhododendron (Ericaceae) from the Late Eocene of California. Palaeontographica, 2001, 245-254.
Contact Info
Norman Wang <br\> University of Hawaii <br\> 1955 East-West Road <br\> Agricultural Science 218 <br\> Honolulu, HI 96822 <br\> wangn at hawaii.edu <br\> Email me through OpenWetWare
Laboratory
Misc