User:Mpalmer
From OpenWetWare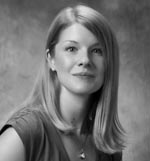 Bio
I am a Postdoctoral Scholar in the Department of Bioengineering at Stanford University in the the labs of Drew Endy and Christina Smolke and am serving as the Deputy Director of Practices for the Synthetic Biology Engineering Research Center (SynBERC).
Contact Info
Address
Megan J. Palmer, Ph.D.
Stanford University
Y2E2 Building, B07 Bioengineering
473 Via Ortega
Stanford, CA, 94306
E-mail
mjpalmer 'AT' stanford.edu
Education
2010 Ph.D. Biological Engineering, Massachusetts Institute of Technology, Cambridge, MA, USA
2004 B.Sc.E. Engineering Chemistry, Queen's University, Kingston, ON, Canada
Postdoctoral Research
Synthetic Biology Engineering Research Center (SynBERC), Deputy Director of Practices
Advisor: Drew Endy
Co-direct efforts within a multi-university engineering research center to explore how scientists and engineers can consider and respond to societal ramifications of developments in synthetic biology.

Smolke Lab, Stanford University, Department of Bioengineering, Postdoctoral Scholar
Advisor: Christina D. Smolke
Development of RNA devices to control cytokine responsiveness of T cells for immunotherapy applications
Graduate Research
Lauffenburger Lab, Massachusetts Institute of Technology, Deptartment of Biological Engineering
Advisors: Douglas A. Lauffenburger, Darrell J. Irvine
Thesis Title: Cytokine Signaling Control of Naïve CD8+ T Cell Homeostasis
Identified and characterized novel heterogeneities within CD8+ T cell populations in terms of their responsiveness to interleukin (IL) family cytokines supporting homeostatic survival and proliferation.
Performed experimental and mathematical modeling analysis of IL‐7 ligand/receptor binding dynamics and signaling, revealing receptor expression as the dominant controller of T cell responsiveness to IL‐7.
Translated in vitro results to in vivo murine models, demonstrating that modulation of IL‐7 levels in vivo alters the clonal composition of the T cell repertoire and revealing IL‐7 levels supporting homeostatic diversity.
Publications
Palmer MJ, Mahajan VS, Trajman LC, Irvine DJ, Lauffenburger DA, Chen J. Interleukin 7 Receptor Signaling Network: An Integrated Systems Perspective. Cellular and Molecular Immunology. 2008. 5(2): 79‐89.
Palmer MJ*, Mahajan VS*, Chen J, Irvine DJ, Lauffenburger DA. Signaling Thresholds Govern Heterogeneity in IL‐7-Receptor‐Mediated Responses of Naïve CD8+ T Cells. Immunology and Cell Biology. 2011. (*authors contributed equally)
Palmer MJ, Lauffenburger DA. Analysis of Alterations in T Cell Repertoire Size and Diversity During Interleukin‐7 Therapy. 2011. In Preparation.
Science and Technology Policy, Education, and Outreach
Scholar, Siebel Scholars Foundation (2010-present)
Served alongside leaders in business, computer science and bioengineering as an advisor to the Siebel Foundation on directing its philanthropic efforts towards solving pressing global problems.

Volunteer, Cambridge Science Festival (2009, 2010)
Facilitated activities at a festival highlighting local science and technology outreach programs.

Graduate Teaching Certificate Program, Massachusetts Institute of Technology (2009)
Completed an optional intensive graduate teaching program in which I was evaluated on development of program curriculum, lectures, evaluation methods and teaching style.

Regional Hub Team Member, Coalition on the Public Understanding of Science (2008‐present)
Coordinated multiple science advocacy groups to successfully organize a series of local science cafes aimed at developing a public understanding and appreciation for science.

Executive Member, MIT Science Policy Initiative (2007‐2010)
Arranged multiple seminars, short courses, workshops and trips to Capitol Hill to educate and engage science and engineering students in the public policy of science, technology, research and innovation.

Graduate Research Mentor, Massachusetts Institute of Technology (2005‐2009)
Mentored two undergraduate students in successfully developing independent research projects.

Teaching Assistant, "Biomolecular Kinetics and Cellular Dynamics", Massachusetts Institute of Technology (2005)
Prepared and evaluated problem sets, taught weekly recitations and prepared resource materials for a graduate course on mathematical modeling of biological systems.

Steering Committee Member, MIT Technology and Culture Forum (2004‐2010)
Organized over a dozen public seminars exploring the role of science and technology in promoting positive social, ecological, and economic change.
Other