Difference between revisions of "User:Marta Milan"
From OpenWetWare
Line 1:
Line 1:
 
+
 
+
 

==Contact Info==

 

==Contact Info==

 

[[Image:newhaircut.png|thumb|right|mmmmmarta]]

 

[[Image:newhaircut.png|thumb|right|mmmmmarta]]
---
Revision as of 18:30, 7 February 2008
MARTA MILAN IS HOTT
Contact Info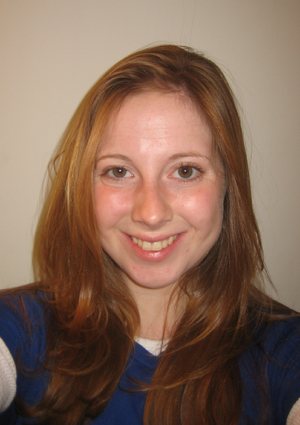 I am Course 20 and work in the Lauffenburger Lab at MIT. I learned about OpenWetWare from the Undergraduate BE Board wiki, and from 20.109(S08).
Originally I'm from [Big Rapids, Michigan] and am very happy to be in Boston. I play oboe in the MIT Wind Ensemble, and am stoked that an oboe was featured in a [superbowl commercial] this year. I also volunteer at MIT [blood drives] because my iron level is too low to donate. Golfing, dancing, and baking are pretty high on my priority list.
Education
2006 - Graduate - Big Rapids High School
2010 - Course 20 - Massachusetts Institute of Technology
Research interests
Immunology
DNA
Let's just cure cancer
Publications
When I get published, I'll make sure to post links.
Useful links
Registration/Questionnaire: 20.109 Spring 2008
Last Name
Milan
First Name
Marta Lynne
Preferred name
Marta
Course/Minor
20/STS
Year of Graduation
2010
Telephone #
(231)598-2332
Email
mmilan AT mit DOT edu
Have you taken
7.05/5.07 (Biochemistry)
7.06 (Cell Biology)
7.02 (General Biology Lab)
5.310 (General Chemistry Lab)
Have you taken any of these classes?
Do you have any experience culturing cells (mammalian, yeast or microbial)?

Do you have any experience in molecular biology (electrophoresis, PCR, etc)?

Yes? (not those specifically, but I have dealt with molecular biology)
Please briefly describe any previous laboratory experience
With Lauffenburger Lab I have done:
Western Blots
Cell culture (fluid suspension, not petri dish)
Hematocytomer/Vicel Cell Counts
ELISAs
BCA Analyses
Flow Cytometry experiments with Flowjo analyses.
Anything else you would like us to know?
My UROP grad student is looking into RT-PCR and other aspects of this class, so I'm excited to parallel my work with 20.109. I'm thrilled to learn more BE-related lab topics and get more experience in the lab.