Difference between revisions of "User:Jerome Bonnet"
From OpenWetWare
Line 34:
Line 34:
 

==Publications==

 

==Publications==

 
 
−

=Research articles=

+

=Research articles=

 
 
 

'''Amplifying genetic logic gates'''<br>

 

'''Amplifying genetic logic gates'''<br>
---
Revision as of 11:22, 30 May 2013
Contact Info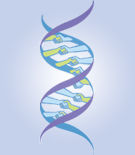 Jerome Bonnet, Stanford University, Department of Bioengineering.
Y2E2-B007, MC4201
473 Via Ortega
Stanford, CA 94305
Lab. (650) 721-5721
email: bonnet[at]stanford.edu

I work in the Endy Lab at Stanford University on the engineering of genetically encoded memory systems. One application of this genetic memory devices is a cell cycle counter, which would allow cells to report the number of time they divided. Such a counter would be useful to monitor the aging process with high resolution. I'm a fellow of the Stanford Center on Longevity.
Education
2007, PhD in cell and molecular biology, CRBM-CNRS, University of Montpellier, france
2003, MS in Biological science and health, University of Montpellier.
2001, BS in Biochemistry, University of Montpellier.
Research interests
Synthetic Biology, Systems Biology, Aging, Evolutionary Biology, Origins of Life.
Publications
Research articles
Amplifying genetic logic gates
Science, 28 March 2013, doi: 10.1126/science.1232758
Jerome Bonnet, Peter Yin, Monica E. Ortiz, Pakpoom Subsoontorn, Drew Endy
Abstract PDFNPR YouTube primer by Drew


Rewritable digital data storage in live cells via engineered control of recombination directionality
PNAS, 2012, 109(23):8884-8889
Jérôme Bonnet, Pakpoom Subsoontorn and Drew Endy.
Abstract PDF
Polycomb-dependent regulatory contacts between distant Hox loci in Drosophila
Cell, 2011 144 (2) pp. 214-226
Frédéric Bantignies, Virginie Roure, Itys Comet, Benjamin Leblanc, Bernd Schuettengruber, Jerome Bonnet, Vanessa Tixier, André Mas, and Giacomo Cavalli.


Characterization of centrosomal localization and dynamics of Cdc25C phosphatase in mitosis
Cell Cycle, 2008, 7:13, 1991-1998
Jérôme Bonnet, Peter Coopman and May C. Morris

Differential phosphorylation of Cdc25C in mitosis
Biochemical and Biophysical research communication, 2008, 370, 483–488
Jérôme Bonnet, Pauline Mayonove, and May C. Morris

Reviews
Switches, switches, every where, In any drop we drink
Molecular cell, 2013, Jan 24;49(2):232-3.
Jérôme Bonnetand Drew Endy

Targeting Kinases and Phosphatases that regulate Cell Cycle Progression
Trends in cell cycle research, 2008.
Jérôme Bonnet, Johanna Scheper, Gilles Divita and May C. Morris: "

Useful links
other interests
West African traditional Mandingo music. http://profile.myspace.com/index.cfm?fuseaction=user.viewprofile&friendid=322568465
Donaba, French site, with a lot of videos: http://www.donaba.net/videoAfrique.php?service=surleWeb&categorie=&pays=&page=1