User:JernejTurnsek
From OpenWetWare
Illuminating evolution one compartment at a time. Pioneering spatial proteomics approaches in photosynthetic microeukaryotes at Harvard University, the Scripps Institution of Oceanography, and the J. Craig Venter Institute (JCVI).

Be part of my efforts to save coral reefs at Let's all tri our best, TriForOceans!
On Sep 1, 2016, I became a Visiting Graduate Student in Prof. Andrew E. Allen Lab at the Scripps Institution of Oceanography (SIO) and the J. Craig Venter Institute (JCVI) where I am continuing my spatial proteomics work in diatoms. My new mailing address is as follows:

Jernej Turnsek
J. Craig Venter Institute
4120 Capricorn Lane
La Jolla, CA 92037
USA
Email: turnsek@ucsd.edu & jturnsek@jcvi.org

I am a marine microbiology Ph.D. Candidate at Harvard University working in the laboratory of Pamela Silver. Fascinated by the microbial diversity of the oceans, I am striving to push the nascent field forward by developing molecular tools to study diatoms, highly abundant and evolutionarily successful photosynthetic unicellular algae with intricately ornamented species-specific silica cell walls. I am interested in understanding the molecular mechanisms guiding the morphogenesis of diatom cell walls and more specifically in the role polyamines play in this process. Biological problems surrounding diatom cell wall biogenesis lead me to my broader research questions: [1] how have mineral skeletons in ocean microorganisms and biomineralization as a biological phenomenon in general evolved, [2] what is the molecular basis of biosynthesis of such biominerals and other intricately patterned naturally occurring biomaterials and [3] how is polyamine metabolism regulated across kingdoms.


Interests
Biomineralization | Biomaterials | Morphogenesis | Self-Assembly
Marine Microbiome | Marine Natural Products
Astrobiology | Space Exploration | Origins of Life
Endurance Sports | Exercise Physiology | Sports Technology
Projects
Spatial biosilicification-specific proteomics in the model diatom Thalassiosira pseudonana.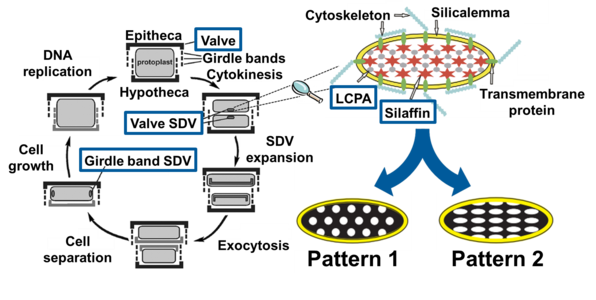 Figure 1 | Overview of the biosilicification process in diatoms. (Left) Diatom cell wall is synthesized inside an acidic compartment called the silica deposition vesicle (SDV). (Right) It is hypothesized that the interaction of silaffins with long-chain polyamines (LCPA) inside the SDV leads to the formation of an organic matrix, the structure of which is controlled by the silaffins (adapted from Kröger, 2007, and Kröger & Poulsen, 2008).
References
N. Kröger, Prescribing diatom morphology: toward genetic engineering of biological nanomaterials. Curr. Opin. Chem. Biol. 11, 662–669 (2007).
N. Kröger, N. Poulsen, Diatoms—From Cell Wall Biogenesis to Nanotechnology. Annu. Rev. Genet. 42, 83–107 (2008).
M. Hildebrand, S. J. L. Lerch, Diatom silica biomineralization: Parallel development of approaches and understanding. Semin. Cell Dev. Biol. 46, 27–35 (2015).
Figure 2 [A] Morphological diversity of diatom cell walls. The image represents cleaned diatom cell walls arranged in the star-like pattern by the UK-based microscopist and diatom artist Klaus Kemp. [B] SEM image of Thalassiosira pseudonana, the model diatom for biomineralization studies (credit: Nils Kröger). [C] Thalassiosira pseudonana cells. Red and green correspond to plastid autofluorescence and silica, respectively.
See poster links under the "Conferences" section for more details.
Funding
My work is supported by the Gordon and Betty Moore Foundation: "The Gordon and Betty Moore Foundation believes in bold ideas that create enduring impact in the areas of science, environmental conservation and patient care. Intel co-founder Gordon and his wife Betty established the foundation to create positive change around the world and at home in the San Francisco Bay Area. Science looks for opportunities to transform–or even create–entire fields by investing in early-stage research, emerging fields and top research scientists. Environmental conservation efforts promote sustainability, protect critical ecological systems and align conservation needs with human development. Patient care focuses on eliminating preventable harms and unnecessary healthcare costs through meaningful engagement of patients and their families in a supportive, redesigned healthcare system." Visit Moore.org or follow @MooreFound and read more about the broader research initiative my projects fall under on the following link.
Peer reviewed publications
R. J. Conrado et al., DNA-guided assembly of biosynthetic pathways promotes improved catalytic efficiency. Nucleic Acids Res. 40, 1879–1889 (2012).
Open source publications
Other publications
Conferences
This conference celebrated efforts of three major contributions to microeukaryote biology, ecology, and evolution that are catapulting the field forward: the Marine Microbial Eukaryote Transcriptome Sequencing Project (MMETSP), the Tara Oceans Expeditions, and the Malaspina Expedition. You can find the poster I presented at the conference on this link.
The Eleventh Annual Broad Institute Retreat, 14-15 December 2015, Hynes Convention Center, Boston, MA
This event brings together researchers and affiliates of the Broad Institute to discuss institute's most recent advances at the interface of science and technology. You can find the poster I presented at the retreat here
Wyss Institute 7th Annual Retreat, 19 November 2015, Seaport World Trade Center, Boston, MA
This event brings together researchers and affiliates of the Wyss Institute for Biologically Inspired Engineering to discuss institute's most recent advances at the interface of science and technology. You can find the poster I presented at the retreat on this link.
Molecular Life of Diatoms 2015 brought together an interdisciplinary mix of scientists to discuss recent advances in our understanding of diatoms and the way they shape our planet. You can find the poster I presented at the conference here.
Talks
Teaching
Biochemistry Bootcamp Mentor, Wellesley College, Wellesley, MA, January 2015
I served as a mentor for the inaugural biochemistry bootcamp aimed at promising undergraduates at Wellesley College. Students expressed a protein in bacteria, purified it, assayed its activity, and presented their findings to their classmates. I directly supervised a pair of undergraduate participants. The administrators at Wellesley agreed to offer this bootcamp opportunity to students again in 2016.
Outreach
My PhD project in plain English
3 slides describing my PhD project in simple terms can be found here.
Science Art
In the news
Past Affiliations
Ginkgo BioWorks, Inc., Boston, MA (10/2012 - 06/2013) | Ginkgo BioWorks
Jerala Lab at the National Institute of Chemistry, Ljubljana, Slovenia (05/2010 - 07/2012) | Jerala Lab
Selected Awards & Accomplishments
Education
Sports
You can find reflections on my first Ironman 70.3 journey on this link.
Podcasts
Science, Technology, Entertainment, Design
Sports
EDM
Slovenian
Other
Web
Marine Microbiology
Science, Technology, Entertainment, Design
Sports
EDM
Contact Info
Lab
Jernej Turnšek | Ph.D. Candidate
Harvard Medical School | Department of Systems Biology | 200 Longwood Avenue, Boston, MA 02115
Wyss Institute for Biologically Inspired Engineering at Harvard University | Center for Life Science Boston Bldg., 5th Floor | 3 Blackfan Circle, Boston, MA 02115
Phone: (617) 797-5386 | Fax: (617) 432-5012 | Email: turnsek@fas.harvard.edu | CV as of July 16'
Social Media