Tony Atala: Artificial Bladder by Krishnendu Saha
From OpenWetWare
Anthony Atala, M.D. is the Director of the Wake Forest Institute for Regenerative Medicine and Professor and Chair of the Department of Urology at Wake Forest School of Medicine and one of the leading scientists in the fields of tissue engineering and regenerative medicine.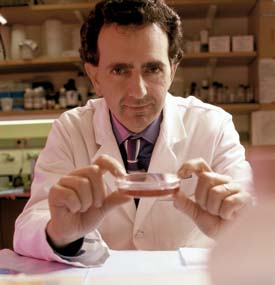 Short Biography
Dr. Atala graduated from University of Miami with Psychology major and completed a medical degree in urology from University of Louisville. He pursued a fellowship at Children's Hospital Boston, Massachusetts (affiliated with Harvard Medical School) and started his independent career at the same institute developing artificial organs for humans. In 1999, his team reported the successful creation and transplantation of artificial urinary bladder in beagle dogs that showed excellent functional capabilities in terms of retaining urine and normal elastic properties. After serving as the Director of the Laboratory for Tissue Engineering and Cellular Therapeutics at Children's Hospital Boston, Dr. Atala later moved to Wake Forest Baptist Medical Center in North Carolina and continued his seminal work of lab-grown organs. In 2006, his team reported succesful transplantation of engineered bladder in humans without any major complications. The patients were monitored for 5 years after surgery to determine long-term efects. As of 2013, he is the W. H. Boyce Professor and Director of the Wake Forest Institute of Regenerative Medicine.
Major Accomplishments
Developed and successfully transplanted lab-grown artificial urinary bladder using patients urothelial cells.
Harvested amniotic fluid stem cells (AFS cells) from pregnant women, avoiding the ethical issues regarding the embryonic stem cells (ESCs).These cells are easier to culture and unlike ESCs they do not form teratoma. AFS cells are also pluripotent, thereby can differentiate into various tissue types and have tremendous potential for future regenerative medicine.
Awards and Honors
Dr. Atala have received numerous prestigious awards including-
Christopher Columbus Foundation Award
The World Technology Award in Health and Medicine
Samuel D. Gross Prize
Barringer Medal
Gold Cytoscope award
In 2007, his work on artificial bladder was listed as Time Magazine's top 10 medical breakthroughs and No. 1 Top Science story by Discover Magazine. In 2009, U.S. News and World Reports featured Dr. Atala as one of the 14 pioneers of medical progess in the 21st century. Dr. Atala serves as editor and associate editor in many peer-reviewed journals including Stem Cells-Translational Medicine, Current Stem Cell Research, and Tissue Engineering and Regenerative Medicine. He is also editors of numerous books in the area of regenerative medicine and urology. He published more than 300 journal articles and applied for or received over 200 national and international patents. He were also invited to give TED lecture on artificially-grown organs.
Artificial Bladder
Bief Timeline