Difference between revisions of "Tony Atala: Artificial Bladder by Krishnendu Saha"
From OpenWetWare
Line 67:
Line 67:
 

Tengion received $50 million dollars in series B financing for the Neo-Bladder Augment clinical trials and development

 

Tengion received $50 million dollars in series B financing for the Neo-Bladder Augment clinical trials and development

 

==References==

 

==References==

−

[1]http://www.nature.com/nbt/journal/v17/n2/full/nbt0299_149.html

+

[1]http://www.nature.com/nbt/journal/v17/n2/full/nbt0299_149.html

−

[2]http://dx.doi.org/10.1016/S0140-6736(06)68438-9

+

[2]http://dx.doi.org/10.1016/S0140-6736(06)68438-9
---
Revision as of 05:17, 10 April 2013
Anthony Atala, M.D. is the Director of the Wake Forest Institute for Regenerative Medicine and Professor and Chair of the Department of Urology at Wake Forest School of Medicine and one of the leading scientists in the fields of tissue engineering and regenerative medicine.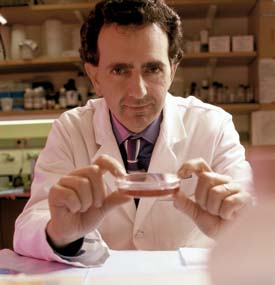 Short Biography
Dr. Atala graduated from University of Miami with Psychology major and completed a medical degree in urology from University of Louisville. He pursued a fellowship at Children's Hospital Boston, Massachusetts (affiliated with Harvard Medical School) and started his independent career at the same institute developing artificial organs for humans. In 1999, his team reported the successful creation and transplantation of artificial urinary bladder in beagle dogs that showed excellent functional capabilities in terms of retaining urine and normal elastic properties [1]. After serving as the Director of the Laboratory for Tissue Engineering and Cellular Therapeutics at Children's Hospital Boston, Dr. Atala later moved to Wake Forest Baptist Medical Center in North Carolina and continued his seminal work of lab-grown organs. In 2006, his team reported succesful transplantation of engineered bladder in humans without any major complications. The patients were monitored for 5 years after surgery to determine long-term efects [2]. As of 2013, he is the W. H. Boyce Professor and Director of the Wake Forest Institute of Regenerative Medicine.
Major Accomplishments
Developed and successfully transplanted lab-grown artificial urinary bladder using patients urothelial cells.
Harvested amniotic fluid stem cells (AFS cells) from pregnant women, avoiding the ethical issues regarding the embryonic stem cells (ESCs).These cells are easier to culture and unlike ESCs they do not form teratoma. AFS cells are also pluripotent, thereby can differentiate into various tissue types and have tremendous potential for future regenerative medicine.
Awards and Honors
Dr. Atala have received numerous prestigious awards including-
Christopher Columbus Foundation Award
The World Technology Award in Health and Medicine
Samuel D. Gross Prize
Barringer Medal
Gold Cytoscope award
In 2007, his work on artificial bladder was listed as Time Magazine's top 10 medical breakthroughs and No. 1 Top Science story by Discover Magazine. In 2009, U.S. News and World Reports featured Dr. Atala as one of the 14 pioneers of medical progess in the 21st century. Dr. Atala serves as editor and associate editor in many peer-reviewed journals including Stem Cells-Translational Medicine, Current Stem Cell Research, and Tissue Engineering and Regenerative Medicine. He is also editors of numerous books in the area of regenerative medicine and urology. He published more than 300 journal articles and applied for or received over 200 national and international patents. He were also invited to give TED lecture on artificially-grown organs.
Artificial Bladder
Importance and
Brief Timeline
19:
1996: Bladder shaped mold was created and was seeded with urothelial cells on the inside and muscle cells on the outside.
1998: Lab-grown bladder successfully transplanted into dogs. After one year, article published in Nature Biotechnology reporting that the bladder was fully functional for 11 months.
1999: Artificial bladders grown from patient's own cells were implanted into 7 volunteers between the ages of 4 and 19. All the patients were suffering from spina bifida, a birth defect that that leads to hardening of bladder tissue, building high pressure and damaging the kidney.
2003: The patent for the process was licensed to Tengion Inc. A company dedicated to providing solutions through regenerative medicine. Dr. Atala is said to be the scientific founder of Tengion.
2006: British medical journal the Lancet reported for the first time artificial organs have been successfully implanted in humans. This was 7 years after the original implantation back in 1999 and the report stated the volunteers were healthy and leading normal lives.
2009: Phase II clinical trials initiated and completed by Tengion for the artificial bladder (Neo-bladder Augment)
Motivation
Estimated new cases and deaths from bladder cancer in the United States in 2013[6]:

New cases: 72,570
Deaths: 15,210
Making the Bladder
A very small piece of the bladder is cut off from the patient usually smaller than the size of a postage stamp. It is very important that the biopsied bladder piece be free from disease. A biodegradable scaffold is molded in the shape of a bladder, this is after a CT scan has been performed on the patient to check the precise dimensions. The cells obtained from the bladder piece are grown outside the body for 7 to 10 days. These cells are urothelial cells. After that are seeded or 'painted' onto the scaffold. This is now put into and oven like device at body temperature and 95% oxygen for about 6 weeks. After this time the organ is ready to be implanted into the patient.
The need for artificial bladders is brought about by a scarcity of donor organs to treat a large number of various bladder diseases such as: Bladder Cancer Urinary Incontinence Interstitial cystitis The National Institute for Continence says that there are about 25 million adult Americans that experience transient or chronic Urinary Incontinence [7] The National Cancer Institute also estimated there would be 73,510 new cases of Bladder Cancer and 14,880 deaths in 2012 alone [6] From these figures we can see the potential market for the artificial bladder and the diseases it can provide a permanent solution to. [edit]Advantages & Current Limitations Regenerate native function and structure. This is important because current methods of bladder disease treatment involve the use of intestinal cells which are not 'specialized' to perform the relaxing and contracting functions of the bladder Eliminate the risk of organ rejection because the patient is using cells obtained from their own body Reduce or eliminate other adverse effects of existing procedures such as osteoporosis. Currently the orthotopic neobladder procedure which makes use of intestinal cells causes the body to absorb calcium and other substances that the bladder would originally get rid of (causing osteoporosis). Provide efficacy advances versus existing alternatives.
Right now, the biggest hurdle faced by Tengion is getting the artificial bladder approved by the Food and Drug Administration

Evolution-From the Lab till Now
The team, which began its work in 1999, followed the last patient for almost two years. In undergoing the experimental procedure, the patients skirted the typical side effects of grafts that would otherwise have been made with their own intestinal tissue. The rebuilt bladders, though, were up to three times more elastic and better at holding urine, the researchers report. In all seven patients, kidney function was preserved, the study said. The patients must still empty their bladders regularly with a tube but can avoid leaking in between. In a talk given during a TED conference, he aired a clip of one of the recipients of the artificial bladder 5 years earlier. The video showed that the volunteers in the 1999 study had reduced leaking from their bladders and given them an improved quality of life. "Now that I've had the transplant, my body actually does what I want it to do," she said in an interview last week at her uncle's house in Haddam, Conn. "Now I can go have fun and not worry about having an accident." -16-year-old Kaitlyne McNamara (Artificial Bladder recipient) [8] Tengion has completed phase 2 trails for the Neo-Bladder Augment, although its has not been approved by the FDA yet. They announced plans in April 2012 to commercialize Dr Atalas' work on the artificial bladder [edit]Funding
Dr Atala received a $1 million grant from the Department of Defense in 2008 to research potential methods of restoring severed limbs of soldiers In 2000, he was awarded the $100,000 Christopher Columbus Foundation Award given to a living American who is currently working on a discovery that will significantly affect society Tengion received $50 million dollars in series B financing for the Neo-Bladder Augment clinical trials and development
References