Todd:News
From OpenWetWare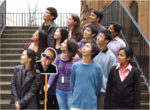 September 23rd 2010: Yu Heng's first paper is accepted into Chem. Eur. J. And he's off to start his PhD with Dave Spring.
September 20th 2010: Ahamed, Thiru and lots of other peoples' paper on how dihydroisoquinoline reacts with nitromethane is published
September 6th 2010: Ahamed's review on catalytic asymmetric additions of C-nucleophiles to N-heterocycles is published.
August 6th 2010: Mat speaks on Open Science at Ignite Sydney. Mat's talk's currently the most watched from the night.
June 2010: Our lab's open science approach featured in Chemistry in Australia (open access, PDF article)
February 4th 2010: Our open science project is the subject of a feature article in Nature