Difference between revisions of "Todd:EquationsMSWord"
From OpenWetWare
---
Latest revision as of 14:13, 8 January 2013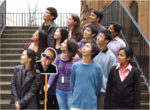 What is this?
Embedding chemical equations within Microsoft Word is cumbersome and often times difficult. Many users use LaTeX instead of MS Word, believing that this software package is advantageous when compared to MS Word, however LaTeX is an advanced software solution and as such, requires an expert end user. This document offers advice for the student who wishes to use MS Word. In this guide a process is described for embedding chemical equations into MS Word in a neat and orderly manner. Chemical images are numbered and can be referenced throughout the document. The numbering system automatically updates when a user moves one chemical image around in the document.
File:AutomaticNumberingMSWord.pdf
This is an unedited, first edition document. Suggestions and questions can be forwarded to Jim Cronshaw