Todd
From OpenWetWare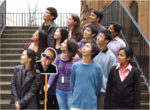 To make the Right Molecule in the Right Place at the Right Time. We're trying to work out what this means.
We are at the School of Chemistry at The University of Sydney. We also have another website there.
Current openings: As of Feb 15th 2011, there is a postdoc available in asymmetric catalysis and a PhD position available in medicinal chemistry. Interested students can email Mat directly.