Sriram Kosuri
From OpenWetWare
Personal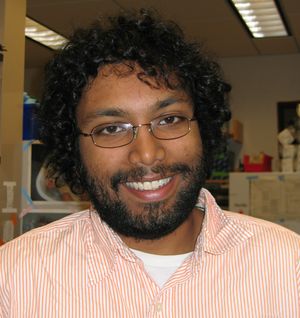 Bio
I am a postdoctoral associate in Mike Laub's lab working on cell cycle in Caulobacter crescentus. I am also currently the interim Spokesperson for OpenWetWare. Prior to the Laub lab, I was a graduate student in Drew Endy's lab and worked on understanding the development of a simple virus (T7) that infects E. coli. As an undergraduate at UC Berkeley, I worked with Adam Arkin, Dale Kaiser, and Roy Welch on modeling traveling wave formation in M. xanthus.
The beginnings of a blog.
Science
Interests
Understanding those aspects of biological design that allow for certain robust features of development in the face of large intrinsic and extrinsic variation specifically on non-evolutionary time-scales (I am currently giving up on the past. That may change in the future.).
Enabling the design, construction, and use of biological organisms for the purposes of further scientific understanding; keeping extremely aware of the use of engineered biological organisms for other purposes.
Property rights as related to biological information and organisms; understanding and reforming current and future frameworks; I really like these people
Reforming the reward structures in biological sciences. -- more on this later, for now see Science 2.0
Past Projects
TABASCO -- A single molecule base-pair resolved gene expression simulator
Measure and Models of T7 Infection
How does T7 deal with Uncertainty
Publications
Refactoring bacteriophage T7
Molecular Systems Biology 13 September 2005 DOI:10.1038/msb4100025
Leon Y. Chan, Sriram Kosuri and Drew Endy
URL PDF reprint News & Views October 2004 version
Interesting Stuff
The beginnings of a blog.
See my interesting stuff page
A failed Research Plan for a job at Harvard's CGR
Contact
Phone: 617.253.3677
OWW users: Post a message on my talk page, or send me an email.
Email:

Postal:
31 Ames St.
68-611
Cambridge, MA 02139

PGP Key: Use this is you have super secret information to send!
-----BEGIN PGP PUBLIC KEY BLOCK-----
Version: PGP 8.0.3 - not licensed for commercial use: www.pgp.com 
mQGiBEBh/jcRBAD6M0Zd6Bd5ePlzGwHz67NOcZUnMOP6Hixp/6N1pVo3dU8Kfmwe
ZE6usfGDgPfqd5YSuMJfmDZWbsWhiF2f1WGuGyiuhQY/lTfxOf2sII5RCboqFJy+
YlaTFy7kphiji6qKoCUmMrLLiL33bOAudADHUyvpIfALVsvvJM64PKp5AwCg/4A8
GrKTtjPfs80hqnlakIsdRJ8D/jt8qwWEUY5fLK5DrlwcRFMwn1vJFv2Bl6/IBCQa
T41v7MKma1EXzYWym7hyOH9IwC7YYUYzEsu1je7KeiIKvwTMgfEOBrc5J9y/7bXz
PU2z/Y4rlGOMb/I6ww+URhreBCVpmMbdhAUFRx3t5Nqx3Zn//A0CT3KSctWFQj06 
m9C4BADK3++94IAxXqfb8gIAS+gGPj4NJ5T99ZnNdGF2YIAdZ71SCkRnqGZbjey0
xiGfvQ4ph9uzocCNHRFmGjAupqRccgbnUlgLwD36GTkeLMmlKBTdpTz+cqux1trq 
O3erau1uUEFEDAuB3lYKfcrp5fOF1x8dTVklZ3g9dporpv3f5LQfU3JpcmFtIEtv
c3VyaSA8c2tvc3VyaUBtaXQuZWR1PokAXQQQEQIAHQUCQGH+NwUJA8JnAAcLCQgH
AwIKAhkBBRsDAAAAAAoJEDX3Sb9719Ja/08AoPLfDC/yXbdPjF1lyO2sX9VJiK7G
AKDD4JOE3SONsHK9GJoD2KTn12w48rkEDQRAYf43EBAA+RigfloGYXpDkJXcBWyH
huxh7M1FHw7Y4KN5xsncegus5D/jRpS2MEpT13wCFkiAtRXlKZmpnwd00//jocWW
IE6YZbjYDe4QXau2FxxR2FDKIldDKb6V6FYrOHhcC9v4TE3V46pGzPvOF+gqnRRh
44SpT9GDhKh5tu+Pp0NGCMbMHXdXJDhK4sTw6I4TZ5dOkhNh9tvrJQ4X/faY98h8
ebByHTh1+/bBc8SDESYrQ2DD4+jWCv2hKCYLrqmus2UPogBTAaB81qujEh76DyrO
H3SET8rzF/OkQOnX0ne2Qi0CNsEmy2henXyYCQqNfi3t5F159dSST5sYjvwqp0t8
MvZCV7cIfwgXcqK61qlC8wXo+VMROU+28W65Szgg2gGnVqMU6Y9AVfPQB8bLQ6mU
rfdMZIZJ+AyDvWXpF9Sh01D49Vlf3HZSTz09jdvOmeFXklnN/biudE/F/Ha8g8VH
MGHOfMlm/xX5u/2RXscBqtNbno2gpXI61Brwv0YAWCvl9Ij9WE5J280gtJ3kkQc2
azNsOA1FHQ98iLMcfFstjvbzySPAQ/ClWxiNjrtVjLhdONM0/XwXV0OjHRhs3jMh
LLUq/zzhsSlAGBGNfISnCnLWhsQDGcgHKXrKlQzZlp+r0ApQmwJG0wg9ZqRdQZ+c
fL2JSyIZJrqrol7DVes91hcAAgIP/0ywIXwh1hYpVE5EbG/0HFP8mSZ+UrKGostS
soZr5lUC0TzfTU8YVYLNH/gA4QDqlir3MCaAeUS5wQShCpiPxQO9sE3nlLsk4Bbg
KuCGh4Lm4sHJfMBMGwJXVwb/1VqU4qHp58mGeXLfccrtxcnhfqsg3o0TRPqVAOkg
u6hy6p3prZSym+3ZS4QIVLUN/ja2D0cajRzONhR0gcgCwAMVoUlZoKiXs/nTBxbz
JZNgUJTr4k/GZF1NGhDtrC6QH1a9u44/tLo/4oXsueyFqvI71W5Ok/NI5mANAiPj
6/VYNJcqwyc2DWPtToEQApCxrTDX/3jKs5bSS8UFhWwAO8q56KJI4AwnxQP/QsRI
LbNg87nowCYS731GPF5D6ky+IW3X/5rMUbcvsMYieMEO71sfEzTU7k19I6XP5Iqq
24SBSxRQxWpRwS9FzWowlwHivS6mReSE1jwrlVEONsKIftFGc7IS4xJNulqh/ZkU
dPIooIBeWOfCPb2h2EBPq7IsU6B0y4UIQLIf9i0lTaZ2oIFsjIPQplIvPmstUtUs
7wS7MutWqFikTdmiPjQ6MQ6gYzOHsGlg/MKA8cAJUDQFGK/pT8Jh5YlmP319fq4T
fI4fH/OeA9CSlkJ6fnCG1tNmgm7Ozz+RFCFnSxb2ahrDYo2ArmAobsuFym1uy3jy
7wCayapziQBSBBgRAgASBQJAYf43BQkDwmcABRsMAAAAAAoJEDX3Sb9719Ja0KUA
oObxHxfl+6/pt3LqLDBz0bwtFUbmAJ9RU+BewLIVD3itGK46XnVCtl3g/g==
=xfzP
-----END PGP PUBLIC KEY BLOCK-----

Who's Visiting
<html> <a href="http://clustrmaps.com/counter/maps.php?url=http://openwetware.org/wiki/Sriram_Kosuri" id="clustrMapsLink"><img src="http://clustrmaps.com/counter/index2.php?url=http://openwetware.org/wiki/Sriram_Kosuri" border=1 alt="Locations of visitors to this page"onError="this.onError=null; this.src='http://www.meetomatic.com/images/clustrmaps-back-soon.jpg'; document.getElementById('clustrMapsLink').href='http://clustrmaps.com/'"> </a> </html>