Difference between revisions of "OpenWetWare:Getting started"
From OpenWetWare
Line 15:
Line 15:
 

=== Niftericious ===

 

=== Niftericious ===

 

   indenting creates a text box

 

   indenting creates a text box

−

Editing id fun!

+

Editing fun!

 

test line

 

test line

 
 
---
Revision as of 21:14, 18 March 2007
---
---
What is OpenWetWare?
OpenWetWare is an effort to promote the sharing of information, know-how, and wisdom among researchers and groups who are working in biology & biological engineering. Lots of people are constantly improving OpenWetWare, making frequent changes, all of which are recorded on article histories and recent changes.
The first step, if you haven't done so already, is to set up a user account so you can edit pages.
How can I help?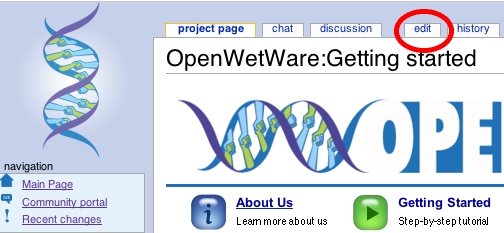 Don't be afraid to edit—anyone can edit almost any page, and we encourage you to be bold (but please don't vandalize)! Find something that can be improved, either in content, grammar or formatting, and fix it.
You can't break OpenWetWare. Anything can be fixed or improved later. So go ahead, edit an article and help make OpenWetWare the best information source on the Internet!
Make your first edit right now:
Click above
Type a message
Click to save your writing
...or

to test your changes
Test edits...
David started here OCW WAS HERE. and so was kate-lol Cil tried this out today. Peng too Denil test editing
Niftericious
 indenting creates a text box

Editing is fun! test line
Ta da! Sonia edited this! ha <- did I?  :o\

namwoo kim

helloooooooooo...
Gill SR, Pop M, Deboy RT, Eckburg PB, Turnbaugh PJ, Samuel BS, Gordon JI, Relman DA, Fraser-Liggett CM, and Nelson KE. Metagenomic analysis of the human distal gut microbiome. Science. 2006 Jun 2;312(5778):1355-9.

DOI:

10.1126/science.1124234 |
Newman JR, Ghaemmaghami S, Ihmels J, Breslow DK, Noble M, DeRisi JL, and Weissman JS. Single-cell proteomic analysis of S. cerevisiae reveals the architecture of biological noise. Nature. 2006 Jun 15;441(7095):840-6.

DOI:

10.1038/nature04785 |