OpenSourceMalaria:GSK Arylpyrrole Series
From OpenWetWare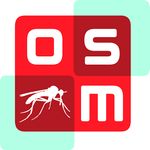 The Arylpyrrole Series
The initial two leads have the general structure:
These compounds are currently under study by the Todd lab at the University of Sydney and the Medicines for Malaria Venture, Geneva. As an open source project, anyone may participate:
Coordination/Discussion site
Electronic Lab Notebooks
Compounds are commercially-available
Series was listed as one of the most promising leads from TCAMS set (though lacking aryl F)

A number of these compounds and intermediates are available for biological testing from Todd group by request.
The two known series examples
TCMDC 123812
InChI=1/C15H15FN2O3/c1-9-7-13(15(20)21-8-14(17)19)10(2)18(9)12-5-3-11(16)4-6-12/h3-7H,8H2,1-2H3,(H2,17,19)
SMILES: O=C(N)COC(=O)c2c(n(c1ccc(F)cc1)c(c2)C)C
CAS Registry Number: 733026-12-5
Chemspider page
ChEMBL Page
Resynthesis:

TCMDC 123794
InChI=1/C26H25FN4O4/c1-16-14-22(17(2)30(16)20-12-10-19(27)11-13-20)26(34)35-15-23(32)28-24-18(3)29(4)31(25(24)33)21-8-6-5-7-9-21/h5-14H,15H2,1-4H3,(H,28,32)
SMILES: Fc1ccc(cc1)n2c(cc(c2C)C(=O)OCC(=O)NC=4C(=O)N(c3ccccc3)N(C=4C)C)C
Chemspider page
ChEMBL Page
Resynthesis:

The proposed resynthesis strategy for these two compounds:

Known "Near Neighbours" contained in the Tres Cantos set
Data/links for these compounds:
TCMDC-123563, CHEMBL546966, CHEMBL page: 637010 Cc1ccc(cc1)n2c(cc(c2C)C(=O)CN3C(=O)C(NC3=O)Cc4ccccc4)C
TCMDC-125698, CHEMBL587989, CHEMBL: 627784 Cc1cc(c(n1c2ccc(cc2)Cl)C)C=C3C(=O)N(C(=Nc4ccccc4)S3)C5CCCC5
TCMDC-125697, CHEMBL581336, CHEMBL: 640978 CCOC(=O)c1ccc(cc1)n2c(cc(c2C)C=C3C(=O)N(C(=Nc4ccccc4)S3)C5CCCC5)C
TCMDC-125659, CHEMBL528140, CHEMBL: 626220 Cc1ccnc(c1)n2c(cc(c2C)C=C3C(=O)N(C(=Nc4ccccc4)S3)Cc5ccco5)C
TCMDC-124103, CHEMBL588465, CHEMBL: 643107 Cc1cc(cc(c1)n2c(cc(c2C)C=C3C(=O)NC(=Nc4ccc(cc4)Cl)S3)C)C
TCMDC-124456, CHEMBL548395, CHEMBL: 640006 CCn1c(cc(c1C)C=C2C(=O)NC(=Nc3ccccc3)S2)C
Potential synthesis strategy toward near-neighbours
Experimental information available from PMY 13-1, PMY 14-1 and PMY 16-1.
Other known incidences of these molecules/this series
Related compounds are known to inhibit the proteasome, according to this Nature paper.
Scifinder Search: 2,4,5-alkyl-1-aryl-pyrrole: 77552 hits, 905 biological studies: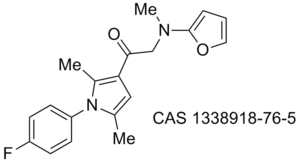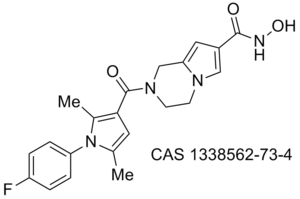 Obesity/diabetes GIP receptor inhibitor JP 2011184298 (A)
Proteasome WO 2011094545 (A2)