LabName:Lab Members
From OpenWetWare
Usage notes
Create a page with the name "LabName:Lab members", replacing "labname" by the name of the PI. A link to it should be created from the labs main page that should also be created. Links should be made only for those with personal pages in OWW. See below examples.
This page is a template and should not be edited.
Click here, copy the source, and paste it into your page.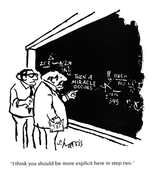 Principal Investigator
Current Lab Members
Research Scientist
RS1 WPage, PhD, 2005-
RS2 NoPage, MD-PhD, 2003-
Postdoctoral Researchers
Technical Assistant
TA1 Name, BSc, 2000-
TA2 Name, BSc, 1990-
Graduate students
Undergraduate students
Visiting Scientists
VS1 Name, PhD, 2007-
VS2 Name, MD, 2006-
Previous Lab Members
Research Scientist
RS1 WPage, PhD, 1990-1991
RS2 NoPage, MD-PhD, 1989-1990
Postdoctoral Researchers
Technical Assistant
TA1 Name, BSc, 1980-1999
TA2 Name, BSc, 1990-2001
Graduate students
Undergraduate students
Visiting Scientists
VS1 Name, PhD, 2000-2002
VS2 Name, MD, 2001-2002