Frankel:Force Spectroscopy
From OpenWetWare
<owwmenu align="center" font="helvetica" bold="1" color="white" bgcolor="black" hovercolor="black" bghovercolor="orange" topfontsize="10" fontSize="10" image="Danbanner-bio-machines.jpg" >
Home=Frankel Members=#,Principal Investigator=Frankel:Lab_Members, PhD students=Frankel:Lab_Members, Alumni=Frankel:Lab_Members Contact=Frankel:Contact Collaborators=Frankel:Collaborators Publications=Frankel:Publications Lab=Frankel:Research Research=#,Force Spectroscopy=Frankel:Force Spectroscopy,HIV/Virus=Frankel:HIV/Virus,ECM Proteins=Frankel:ECM Proteins,Cyberplasm=Frankel:Cyberplasm,Cancer=Frankel:Cancer


'______ 'Force Spectroscopy
Picking up and unfolding a single protein
Assembly
Nano-mechanics of HIV GP160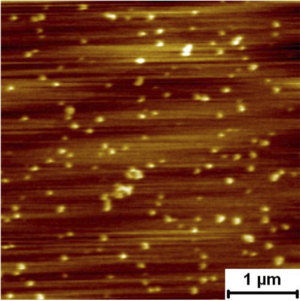 GP160mica
---
Typical sawtooth unfolding pattern of a single molecule of the HIV virion protein GP160. Unfolding forces can be extracted from the sawtooth pattern by applying the worm like chain model.
Unfolding the ECM protein fibronectin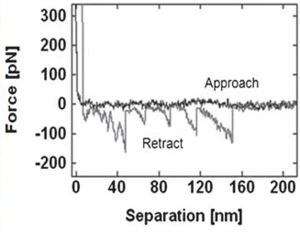 ---
Sawtooth pattern on the retraction force curve indicating the unfolding of fibronectin. The average rupture force distribution of the protein on mica surface was 85.1 ± 2.7 pN.