Endy:Victor3 plate variation
From OpenWetWare
Background
96 well plates with transparent bases cost ~$4 each. It was unclear if washing plates (bleach, followed by ethanol) led to greater variation in readings.
Method
The GFP and absorbance of every well on a new and a washed plate were measured. The wells were empty.
Results
Histograms of the GFP readings for each plate are shown below.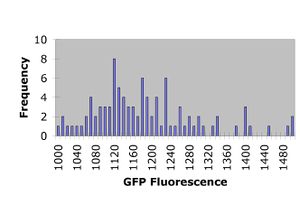 Conclusion
The washed plate results in a higher average background reading.
The washed plate actually results in tighter distribution of readings.
For most applications, washed plates are perfectly acceptable.