Endy:Screening plasmid/Inverter characterization
From OpenWetWare
Already measured with SP1.0 (I13534.pSB1A2)
Q04400.007 - mutated Q04400 (tetR QPI), point mutation in RBS. Works well, switches later than Q04400.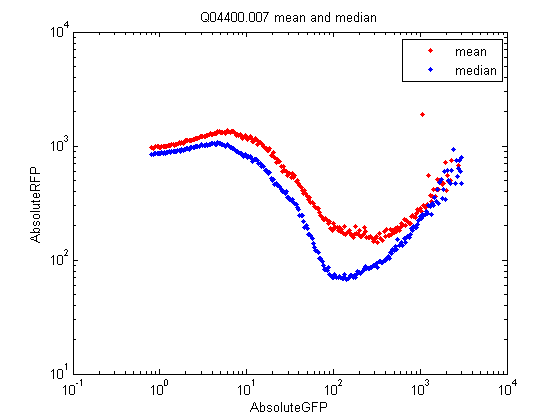 mnt inverters from enterobacteriophage p22 [1, 2]

Note: The promoter used in these inverters is missing base 13 in its 17-bp operator site [2], though I think they meant to include it (they reference the article and mention it in the registry). It's also missing a -35 site.
Q04720 - mnt inverter, strong repressor - output not very high, and doesn't appear to be doing much (picture)
Measured with older versions of screening plasmid (I13537.pSB1A2, I13538.pSB1A2, or I13534.pSB4A3)
tetR inverters [3, 4]

Q04400 - works reliably (quantitatively), switches at low input.
Q03400 - weaker RBS driving tetR. Looks like it starts to switch, but very high GFP gives very high RFP numbers. Unclear what's happening.
Q01400 - weakest RBS. Generally looks like it's stuck in the high-output stage. Some evidence suggests it might be switching, however.

p22 cII inverters
To be measured/constructed/etc
References
Knight KL and Sauer RT. Identification of functionally important residues in the DNA binding region of the mnt repressor. J Biol Chem. 1989 Aug 15;264(23):13706-10.
Stormo GD, Strobl S, Yoshioka M, and Lee JS. Specificity of the Mnt protein. Independent effects of mutations at different positions in the operator. J Mol Biol. 1993 Feb 20;229(4):821-6.

DOI:

10.1006/jmbi.1993.1088 |
Elowitz, M. B. Transport, Assembly, and Dynamics in Systems of Interacting Proteins. Thesis, Princeton Univ., Princeton (1999)
Lutz R and Bujard H. Independent and tight regulation of transcriptional units in Escherichia coli via the LacR/O, the TetR/O and AraC/I1-I2 regulatory elements. Nucleic Acids Res. 1997 Mar 15;25(6):1203-10.
Himeno T, Imanaka T, and Aiba S. Nucleotide sequence of the penicillinase repressor gene penI of Bacillus licheniformis and regulation of penP and penI by the repressor. J Bacteriol. 1986 Dec;168(3):1128-32.