Dueber Lab
From OpenWetWare
webpage of john dueber's lab.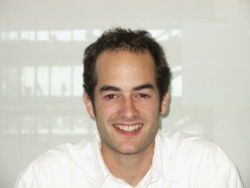 People

John Dueber <jdueber@berkeley.edu>
Ghulam Reza K Malmirchegini <rezak@uclink.berkeley.edu>
Alan Masinter <palanq@berkeley.edu>
Weston Whitaker <westonwhitaker@gmail.com>


Address
Room 166
717 Potter St.
Berkeley, CA 94720-3224


Brief research description
We have two separate projects in collaboration with the laboratories of Jay Keasling and Adam Arkin. In both, we are using modular strategies in a forward engineering effort to rewire/reprogram pathways - metabolic pathways with Jay Keasling and two-component signaling with Adam Arkin.