Difference between revisions of "Chien:Lab Members"
From OpenWetWare
---
Revision as of 17:21, 22 August 2011
Group photo - At Boston Bacterial Meeting - Summer 2011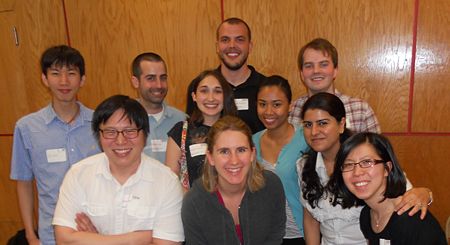 Principal Investigator
Current Lab Members
Postdoctoral Researchers
Nousheen Hamid Bhat, Ph.D. is developing new methodologies for discovery of novel ClpXP substrates.
Graduate students
Undergraduate students
Previous Lab Members
Nathan Colon, undergraduate (Spring 2010)/technican (Summer 2010), graduated 2010, BMB.
Laura I Francis, Ph.D. (postdoc 2010-2011) is now an instructor with the Biology Department here at UMass.