BioMicroCenter:RTPCR
From OpenWetWare

PCR
MWG Thermal Cyclers
The Primus Multiblock system provides comprehensive state-of-the-art PCR technology. They are ideal instruments for high throughput PCR and sequencing. The cyclers allow for exchangeable blocks (384/96 well format), motorized lid, HTR Peltier technology for fastest heating / cooling rates and optimal results. Patented HPL (High Pressure Lid) technology for 100% evaporation prevention.
Real Time PCR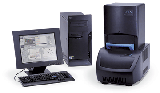 MJ Research Real Time PCR Machine
The MJ Research PCR Machine enables multicolor capability allowing detection of SYBR® Green I or FAM in the first channel, and a range of fluorophores in the second channel — including TET, HEX, VIC, and TAMRA — for a multitude of applications such as RT-qPCR and allelic discrimination. The DNA Engine® thermal cycler offers precision thermal control and a temperature gradient feature permits simultaneous incubation at 12 different temperatures to optimize reactions in a single run. The real-time results allow for plotting of signal intensity vs. cycle number and graphically monitoring the thermal profile during the run. The extraordinary sensitivity permits reliable detection of one initial template copy, while delivering a linear range of up to ten orders of magnitude in starting copy number (with appropriate chemistry). Users are currently charged $10 per plate for the use of this machine.

Light Cycler 480 II Real-time PCR machine
The LightCycler 480 Real-Time PCR System is a fully integrated multiwell-plate based real-time PCR platform for highly accurate qualitative and quantitative detection of nucleic acids. Building on the benefits of Roche's capillary-based LightCycler® Systems, it goes one step further in offering enhanced throughput, compatibility with automation equipment and maximum flexibility regarding hard- and software. Providing novel ways to combine speed and accuracy without compromises, the LightCycler® 480 Real-Time PCR System meets the needs of a broad range of applications in research fields such as gene expression studies, discovery and analysis of genetic variation or array data validation.
The Light Cycler will be relocated to 68-316 in mid July 2009 at which time a $10 charge per plate will be implemented to cover the cost of the service contract.