Artificial Hearts
From OpenWetWare
The artificial heart is a replacement of the human heart, in the form of a device which performs the functions and processes involved with the heart. In particular, by utilizing the fluid mechanic properties of the heart, doctors and researchers have been able to produce systems that are used to either allow for a transition phase for a patient without a donor or for the use as a permanent replacement. Unlike stents or other vascular devices intended on repairing functionality of a human heart, Artificial hearts offer a new system, which is powered by an outside source. The circulation of blood and opening of valves is mechanically controlled and is powered by a battery pack which keeps all mechanical parts moving. It is also important to note that unlike a human heart, where flow rates can be adjusted by activity or nerve impulses, the artificial heart utilizes special controllers to calibrate itself for the tasks to stimulate blood flow movement.
History
With a tremendous lack of organ donors and a massive demand for heart transplants due to health complications, the need for replacement alternatives has become ever more pressing. The timeline below illustrates some of the advancements of this technology. It is important to note that this technology is relatively novel.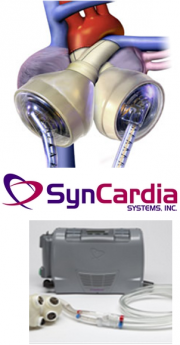 1952: Dodill-GMR Machine is used on a patient to restore patients breathing pattern. Considered to be the world's first mechanical heart.
1953: The Heart-Lung Machine, developed by Dr. John Heysham Gibbon was used during open heart surgery.
1957: Dr. Wilhelm John Kolff surgically implants artificial heart into a canine.
1964: National Institute of Health (NIH) develops program for Artificial Heart Research.
1967: The First Heart Transplant in the world.
1969: First Artificial Heart Transplant, remains on transplant for over 64 hours.
1973: Implants of Jarvik 5 are implanted in bulls and cows.
1981: Jarvik 7 is implanted into a patient by FDA approval and supervision.
1994: First Heart Assist system is introduced to a patient.
1996: Phoenix 7 Total Artificial Heart is implanted into patient. (Patient is still living)
2008: Testing for Total Artificial Hearts with Biosensors progresses in the US, EU and Japan.
2012: University of Kentucky discharges first Syncardia Total Artificial Heart patient.
Current & Future Development
Overview
With over 50 years in development of the device, and millions of dollars in funding, the Artificial heart has made progress and is being approved for civilian use by the FDA and other health related ministries and authorities around the world, including the EU, Canada and Japan. In this, the functionality of the artificial heart has been identified as the use of mechanical hydraulic systems used to flow blood in a similar fashion to that of a human heart. In particular, researchers such as Dr. Robert K. Jarvik, an inventor of the Jarvik Artificial Heart (shown left) [7], utilized theories of fluid mechanics and the inner workings of the heart to create a system with the ability to move de-oxygenated blood through the device and circulate oxygenated blood [6]. From this research, multiple companies have emerged to further this development. Two of these companies include Abiomed and SynCardia [1].
Companies
Abiomed
AbioMed is a company founded in 1981 with the objective of producing artificial organs including the heart and kidneys. Located in Danvers, MA, With over 400+ Employees, both in the United States and Europe, AbioMed produced the First Total Artificial Heart where the electronic components of the power system were located inside the body. Approved by the FDA for patient implantation and a cost of $350,000 USD, Abiocor, the company's heart system is used to fully replace the entire heart.[11]

SynCardia
SynCardia is a company based in Tucson, AZ, that is focused on producing artificial organs, including the heart. In taking over Symbion, a company founded by Dr. Robert Jarvik, the Jarvik 7 or renamed CardioWest is one of their main devices that was implanted into patients for the use as an artificial heart. In its trials and experiments, 79% of patients who received the implant, survived. These test trials were conducted in a 10 year period.[12]. In addition, SynCardia has been involved in developing power systems for the heart to power the heart and trying to introduce portability to its systems by developing the freedom driver system. [12] An operation including the heart for an implant is estimated to be about $300,000-$400,000 USD.
Future Developments
In recent years, the modernization of technology has allowed systems to become more efficient and more effective. With the elaborate research being done on making the power source better, it has allowed for greater patient mobility. The main reason is that twenty years ago, the ability to move while having a large backup battery with you at all times was very difficult. In addition, the effectiveness of batteries have allowed power sources to hold a charge for a longer period of time, allowing the heart to be on more often. Furthermore, this research has allowed for a change of materials of the system to produce a system which is lighter, smaller and can thus be used for patients who are smaller than average. In addition to prevent risks of infection or disease, new systems will have biosensors to be able to adapt to the environment it is in.
With this considered, the preservation of the heart has also been extensively studied by using Heart Assist machine. Heart assist systems assist the heart in carrying out certain functions, such as effective movement of de-oxygenated blood into the lungs.
Complications
Immuno-Response
Artificial hearts have had complications related to immuno-response by the system. It should be noted that patients have died due to infections as well as weakness of the immune system post surgery. It should also be noted that in the past 50 years, survival rates have been variable based on the type of device as well as its material properties and the specific case of the patient. Diseases or illnesses that can be contracted during treatment or surgery include pneumonia, high fevers and multiple organ failures.[7]
Flow Rate Adjustment
Artificial hearts have had difficult times adapting to their environment. It should be noted that the heart system sets an independent flow-rate for the pump inside the artificial heart, where as neuronal signalling influences the current beating rates, therefore a risk that many scientists are currently trying to alleviate is the system of the controller. Currently, there are systems which can adjust the flow-rate of the vessel based on the exercise attempted. For example, a person who may decide to take a walk or stroll, will require a faster heart rate than someone who will be sitting down. These things have to be adjusted accordingly in order to avoid complications.
References
[1]Isaacs, Don. "University of Kentucky Medical Center Discharges State's 1st SynCardia Total Artificial Heart Patient." SynCardia Systems, Inc. Syncardia Systems Inc., 21 Mar. 2012. Web. 23 Mar. 2012. <http://www.syncardia.com/2012-Press-Releases/university-of-kentucky-medical-center-discharges-states-1st-syncardia-total-artificial-heart-patient.html>.
[2]Board, A.D.A.M. Editorial. "Causes, Incidence, and Risk Factors." Heart Failure. U.S. National Library of Medicine, 18 Nov. 0000. Web 23 Mar. 2012. http://www.ncbi.nlm.nih.gov/pubmedhealth/PMH0001211/
[3]Jarvik, Robert. "Heart Disease." Jarvik Heart. Jarvik Heart Inc. Web. 23 Mar. 2012. <http://www.jarvikheart.com/basic.asp?id=3>.
[4]LVAD power delivery: a percutaneous approach to avoid infection.Jarvik R, Westaby S, Katsumata T, Pigott D, Evans RD.Ann Thorac Surg. 1998 Feb; 65(2):470-3.
[5]"SynCardia Systems, Inc. - Artificial Heart Timeline." SynCardia Systems, Inc. SynCardia Systems Inc. Web. 25 Mar. 2012. <http://www.syncardia.com/component/option,com_arttimeline/Itemid,707/timelineid,1/>.
[6]New era for therapeutic strategy for heart failure: Destination therapy by left ventricular assist device.J Cardiol. 2012 Mar ;59(2):101-9. Epub 2012 Feb 10 .
[7]The Jarvik 2000 is associated with less infections than the HeartMate left ventricular assist device.Siegenthaler MP, Martin J, Pernice K, Doenst T, Sorg S, Trummer G, Friesewinkel O, Beyersdorf F.Eur J Cardiothorac Surg. 2003 May; 23(5):748-54; discussion 754-5.
[8]Cardiac prosthesis as an advanced surgical therapy for end-stage cardiac patients: current status and future perspectives.Takatani S.J Med Dent Sci. 2000 Sep; 47(3):151-65.
[9]Thoratec implantable ventricular assist device: the Papworth experience. Berman M, Parameshwar J, Jenkins DP, Dhital K, Lewis C, Dempster K, Lincoln P, Sudarshan C, Large SR, Dunning J, et al. J Thorac Cardiovasc Surg. 2010 Feb; 139(2):466-73. Epub 2009 Oct 14.
[10]"Abiomed." AbioCor . Abiomed. Web. 23 Mar. 2012. <http://www.abiomed.com/products/heart-replacement/>
[11]Cardiac prosthesis as an advanced surgical therapy for end-stage cardiac patients: current status and future perspectives. Takatani S.J Med Dent Sci. 2000 Sep; 47(3):151-65.
[12]Total artificial hearts: bridge to transplantation.Copeland JG, Arabia FA, Tsau PH, Nolan PE, McClellan D, Smith RG, Slepian MJ. Cardiol Clin. 2003 Feb; 21(1):101-13.
[13]Cardiac extracorporeal life support: state of the art in 2007. Cooper DS, Jacobs JP, Moore L, Stock A, Gaynor JW, Chancy T, Parpard M, Griffin DA, Owens T, Checchia PA, et al. Cardiol Young. 2007 Sep; 17 Suppl 2:104-15.
[14]Preoperative risk analysis in patients receiving Jarvik-7 artificial heart as a bridge to transplantation. Kawaguchi AT, Cabrol C, Gandjbackhch I, Pavie A, Bors V, Muneretto C. Eur J Cardiothorac Surg. 1991; 5(10):509-14.
[15]The use of the Jarvik-7 total artificial heart and the Symbion ventricular assist device as a bridge to transplantation. Pifarre R, Sullivan HJ, Montoya A, Bakhos M, Grieco J, Foy BK, Blakeman B, Costanzo-Nordin MR, Altergott R, Lonchyna V. Surgery. 1990 Oct; 108(4):681-5.